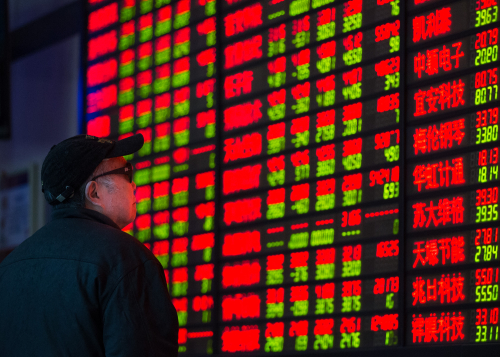 KEEPING THE VIGIL: A stock trader observes the electronic display screen at a brokerage in Nanjing, capital of east China's Jiangsu Province, on April 8, when the Shanghai Composite Index exceeded 4,000 points for the first time in seven years (SU YANG)
Wang Tong, a 32-year-old vice president of a Beijing-based investment bank, hasn't had much luck in the stock market. Spurred by his peers, he entered the stock trading arena with high hopes to make big bucks in 2008. To his chagrin, the universe was not in his favor. Ravaged by global financial crisis, China's stock market slid into bearish territory several months after Wang began trading stocks. Unfortunate for Wang, prices of equities he purchased have been declining ever since.
That was until late 2014, when the market managed a stunning recovery. Wang breathed a sigh of relief after selling out some of the stocks he had held for seven years.
At the present, Wang has invested over 200,000 yuan ($32,280) in the stock market. Despite a return rate as high as 20 percent over the past few months, he said he wouldn't increase his stakes. After learning a hard lesson from his previous run-in with the stock market, Wang refuses to be overly optimistic toward a volatile market.
"Some people have sold homes to buy stocks. I would never do that. That's too irrational. More leverage and more possible high returns will inevitably mean more risks. For ordinary players, guarding against risks is equally as important as the pursuit of high return rates," Wang said.
Stocks in China have achieved hot status as they have already risen more than 80 percent since late November in the hopes that more policy easing would lessen the risk of a sharp slowdown in the world's second largest economy. In the meantime, regulators are weighing the benefits of rising share prices against the risks that individual investors will get burned by excessive speculation. The message has never been clearer--Chinese authorities want a "slow bull" market, not a "crazy bull."
A rapid rise
Players in China's stock market, even seasoned veterans, experienced an emotional ride during the weekend of April 18-19, when authorities moved to rein in speculative trading and later pumped liquidity into the market.
Right before that, China Securities Regulatory Commission (CSRC) announced a major policy adjustment after the market closed on April 17.
The CSRC unveiled measures to clamp down on the use of shadow financing for equity purchases and increase the supply of shares available for short sellers.
The move was immediately taken as a regulatory crackdown on the red-hot market. To mitigate prevalent market anxiety, CSRC spokesman Deng Ge said on April 18 that the market shouldn't read too much into the new regulation.
The move is aimed at promoting a balanced development of margin trading, rather than aiming to suppress the stock market, he said.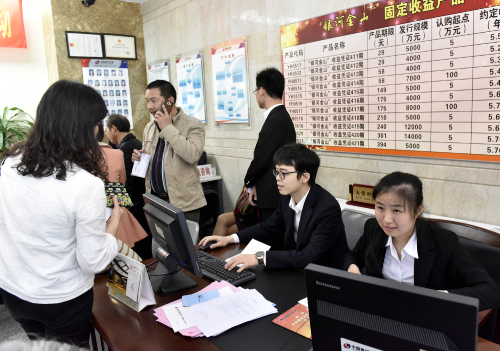 IT'S GO TIME: Customers consult on opening new stock trading accounts at a brokerage in Guangzhou, capital of south China's Guangdong Province, on April 13, the first day a single investor was allowed to open and use up to 20 A-share accounts (LIU DAWEI)
A more dramatic move took effect one day later. On April 19, the People's Bank of China, the central bank, decided to cut the reserve requirement ratio (RRR)--the amount of cash that lenders must hold as reserves--by 1 percentage point effective on April 20, the second industry-wide cut this year and the largest since November 2008. Banks with a certain amount of lending related to the agricultural sector and small and micro businesses will enjoy another RRR cut.
Lian Ping, chief economist at the Bank of Communications, estimated that a total of 1.2 trillion yuan ($193.7 billion) will be pumped into the market after the RRR cut, which will substantially improve banks' liquidity conditions, help reduce interest rates, promote banks' lending activities and eventually reduce financing costs for businesses to lift the slowing economy.
Zeng Gang, a researcher with the Institute of Finance and Banking at the Chinese Academy of Social Sciences, said China used to have a relatively high RRR level because of the country's hefty funds outstanding for foreign exchange.
"As the funds outstanding for foreign exchange continue to drop, lowering RRR accordingly to better support the real economy is a natural choice for Chinese authorities," Zeng said.
Niu Yang, a researcher with China Dragon Securities Co. Ltd., said the RRR cut is first and foremost aimed at supporting the real economy, but the move will also greatly benefit stocks related to banks, property developers and the securities industry, as they in particular are extremely sensitive to liquidity conditions.
Chinese equities are on fire. The benchmark Shanghai Composite Index (SCI) has nearly doubled since last November on hopes of more easing policies aimed at sustaining stable growth in a slowing economy, with the world-beating performance luring retail investors who have opened accounts at a record pace. The SCI recently reached the 4,000 level for the first time since the financial crisis.
The quick pace of gains in the stock market persuades millions of rookie investors to take plunge.
A total of 7.95 million new stock trading accounts were opened in the first quarter of the year, skyrocketing 433 percent from the same period last year. Many younger players joined the arena, evidenced by the fact that 62 percent of the new accounts were opened by people born in the 1980s, according to data from China Securities Depository and Clearing Corp. Ltd., a state-owned clearing service company.
Investors' enthusiasm was further fueled by a new rule that allows one investor to open multiple trading accounts.
Starting from April 13, investors on the Chinese mainland are permitted to open and use up to 20 A-share accounts at different brokerage firms under a unified account platform. Previous regulations had limited each individual to one stock account.
Spurred by this, in the first trading week (April 13-17) when the rule was effective, 3.28 million new stock trading accounts were opened, up 95 percent from the previous trading week, according to China Securities Depository and Clearing Corp. Ltd.
As millions of new investors rushed to the stock market in the hopes of striking gold, the turnover of Chinese bourses broke records.
Trading turnover on the Shanghai and Shenzhen stock exchanges totaled $1.85 trillion and $1.56 trillion respectively in March, making the two bourses the world's largest that month, according to the World Federation of Exchanges. Comparably, the New York Stock Exchange had a turnover of $1.53 trillion in March, and the Nasdaq a total turnover of $1.1 trillion.
On April 20, the daily trading turnover of Shanghai Stock Exchange even hit a record high of 1.14 trillion yuan ($183.1 billion), and the data could not be properly displayed because its software was not designed to report numbers that high.
Wu Xiaoqiu, Director of Finance and Securities Institute of the Beijing-based Renmin University of China, said the rally in Chinese equities comes within expectation.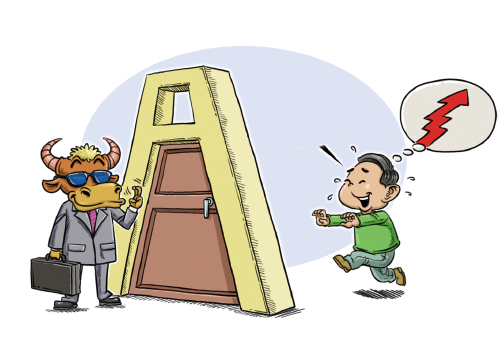 (CHENG SHUO)
"Chinese economy has expanded at a speed ranging from 7 to 9.5 percent after the global financial crisis. The economy and its businesses have become much more competitive compared to the period before 2008. Therefore, it's totally natural for the stock market to rise from the 2008 levels," Wu said, adding that the rosy prospect of China's economic restructuring and anticipated monetary easing also add to the current fervor for stock trading.
A report from Shenwan Hongyuan Securities Co. Ltd. attributed to the rally to people's expectations of a new round of economic growth.
There are plenty of investment opportunities in the Internet-based economy, companies related to the Silk Road Economic Belt and the 21st Century Maritime Silk Road, as well as state-owned companies which are going to launch mixed-ownership reforms, according to the report.
Beware the bear
Frenetic stock trading activities have attracted much attention from regulatory authorities. CSRC Chairman Xiao Gang has reiterated in many occasions the potential risks in stock trading.
"The stock market rally is the people's reaction to dividends that will be released by future reforms," Xiao said, adding that central authorities' firm determination in bolstering reforms is the major drive for roaring stock prices.
Xiao, however, warned investors that the stock market isn't just a one-way bet.
A considerable portion of stock buyers don't have enough awareness of stock trading risks. When people invest in the stock market, they should remain rational and calm and fully assess the risks in the market, Xiao said.
The A-share market above the 4,000 points scares even the most sophisticated investors.
Feng Yonghuan, Investment Director of Shenzhen-based Wangzheng Asset Management Co. Ltd., said the stock market is highly fragmented, with certain areas getting increasingly frothy and some areas being significantly undervalued.
Although the red-hot stock market has seemingly been divorced from the cooling economy, Feng said the declining traditional industry signals the onset of many new industries.
"Investors should set their eyes on new industries and new trends," he said.
According to Feng, now that the SCI has exceeded 4,000 points from the 2,000-plus points half a year ago, investors should avoid blindly buying those sought-after stocks. Instead, they should uncover opportunities in promising industries and promising businesses.
"For the next 10 years, a large number of companies will undergo industrial integration. Investors should buy into those future industry leaders in advance," Feng suggested.
Feng said investment opportunities exist in three areas--consumption industries, such as online healthcare, entertainment and travel; environmental protection-related industries such as new energy cars; and high-end manufacturing industries such as electronics and smart equipment.
Wang, the 32-year-old vice president of an investment bank, said he's pinning his hopes on two promising industries in the stock market--healthcare and education.
"I favor those two industries because they both have a high profit margin and stable cash flow. As more and more Chinese people reach their twilight years, the healthcare industry will become even more significant. Meanwhile, society has placed higher and higher demands on people's capability, and life-long education will become a norm in China," Wang explained.
"I have become more rational compared to before. Right now, before buying stocks, I want to know the fundamentals of a company," Wang said.
As far as his perspective on how future factors into the stock market, Wang firmly sticks to his newfound principle of heightened caution.
"I'd be happy enough if the bullish market lasts for two to three years," Wang said. "However, I will not invest too much of my time in the stock market. Investing on my career development sounds more attempting."
Copyedited by Kylee McIntyre