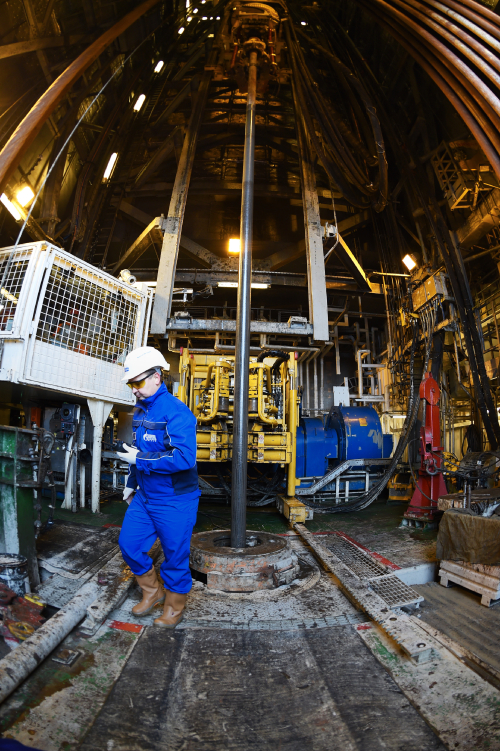 EXPLOITING OIL: Workers of Russia's state-owned oil and gas producer, Gazprom, operates on an oil rig in waters of Barents Sea on September 14 (CFP)
In the past several months, oil prices on the international market have dropped 25 percent from a high point in June, which will have a subtle influence on the global political and economic scene. Despite claims that oil prices have hit a low point, the future trend is hard to predict owing to complicated factors, such as geopolitical tensions as well as the current oversupply worldwide.
Reasons for price drop
On October 24, closing prices for crude futures traded on New York and London markets were $81.01 and $86.13 per barrel respectively, plunging more than a quarter from $107.26 and $115 per barrel in June. Oil prices have been falling for the past four months for a variety of reasons.
A major factor is that oil supplies are abundant and increasing. According to the monthly market indicators issued by the Organization of Petroleum Exporting Countries (OPEC), the production of crude oil of OPEC in September was 30.47 million barrels per day, increasing 402,000 barrels more than that in August and reaching the highest level since August 2013.
At present, production from OPEC members accounts for one third of the global total. Iraq, Iran and Libya have expanded production and exports. What's more, abundant production of high-quality shale oil in the United States has had a remarkable influence in driving down the price of oil.
A signed article in the Financial Times said that U.S. crude oil production has increased 80 percent since 2008. Currently, its daily oil production is 2.9 million barrels more than that in 2008. With a revolutionary technological breakthrough in terms of shale, the United States appears to be the second largest oil-producing country in the world following Saudi Arabia.
Oil demand in many markets is weak due to sluggish economic growth. In the World Economic Outlook report released by the International Monetary Fund in October, the growth forecast for the world economy was revised downward to 3.3 percent for this year, 0.4 percentage points lower than in the April report. The global growth projection for 2015 was lowered to 3.8 percent, largely owing to weaker-than-expected global activity in the first half of this year. For instance, the EU has been confronted with a series of difficulties in economic recovery and emerging economies are undergoing sluggish growth, which have dragged down oil prices.
Behind the oil price drop, there are also complicated political factors engendered by the wrestling between the United States and Russia. The United States and its Western allies have been imposing several rounds of economic sanctions on Russia for its role in the Ukraine crisis since March.
Alexei Kudrin, former Russian Finance Minister, said that the United States and other major oil-exporting countries have squeezed down oil prices in order to pressure Russia. The oil industry is a pillar of the Russian economy. Falling oil prices will have an impact on the Russian economy. This "conspiracy theory," then, is not entirely groundless speculation.
Generally speaking, the oil price drop inevitably damages the interests of oil-exporting countries. Saudi Arabia and other OPEC members should have reduced oil production, but they seem to have no such plans. Saudi Arabia and many OPEC member states in the Middle East are U.S. allies, and may have sided with the United States in dealing an economic blow to Russia.
In the past months, the U.S. dollar has appreciated markedly. A stronger dollar inevitably pushes down dollar-denominated oil prices. Analysts said that the U.S. dollar, now in a new up cycle, will continue to go up in the short run.