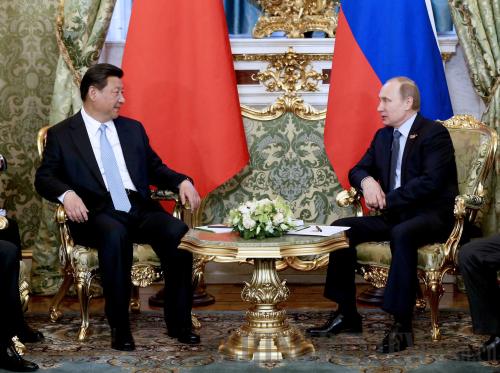 Visiting Chinese President Xi Jinping talks with his Russian counterpart Vladimir Putin at the Kremlin in Moscow on May 8 ( XINHUA )
During his state visit to Kazakhstan in September 2013, Chinese President Xi Jinping proposed the building of the Silk Road Economic Belt, which is expected to facilitate trade between countries along the ancient trade route on the Eurasian continent and increase connectivity of infrastructure in these countries.
When Xi made his newest Eurasian tour to Kazakhstan, Russia and Belarus on May 7-12, he found the prospect is increasingly likely that his initiative will be seamlessly integrated with collective and individual development programs of the host countries.
Kazakhstan
In Astana, capital of Kazakhstan, Xi Jinping and his Kazakh counterpart Nursultan Nazarbayev agreed on May 7 that the two countries will align their development strategies in pursuit of common prosperity.
"We are ready to align the Silk Road Economic Belt Initiative to Kazakhstan's new economic policy of the Bright Road, so as to achieve common development and prosperity on the basis of equality and reciprocity," Xi said during talks with Nazarbayev.
Echoing Xi, Nazarbayev said that Kazakhstan backs China's initiative and stands ready to be an important partner of China to build the Silk Road Economic Belt.
He also added that Kazakhstan is ready to work more closely with China under the framework of the Asian Infrastructure Investment Bank.
Relations between China and Kazakhstan have been much closer as their cooperation on trade and investment has witnessed a remarkable momentum of growth. Bilateral trade value reached $28.6 billion in 2013. China has become Kazakhstan's largest trading partner.
Today, more and more merchants from Kazakhstan come to China to do business. China's land port Horgos in Xinjiang Uygur Autonomous Region, which borders Kazakhstan, has witnessed a remarkable growth of trade. Express cargo routes have been launched from China via Kazakhstan to Europe. Rakhat, a Kazakh chocolate brand, has been popular with consumers in Xinjiang for its unique milk flavor and natural food processing.
Meanwhile, a growing number of Chinese investors are establishing joint ventures in Kazakhstan and have introduced leading industrial and agricultural technologies into the country. Currently, China's total investment in Kazakhstan has exceeded $26 billion, and Kazakhstan is China's first investment destination among Central Asian countries.
China and Kazakhstan are now pursuing the goal of increasing their bilateral trade value to $40 billion by the end of 2015.
Russia
Russia was the second leg of Xi's three-nation tour.
In talks between Xi and Russian President Vladimir Putin in Moscow on May 8, the two countries reached broad consensus on integrating the Silk Road Economic Belt Initiative with Russia's aspiration under the Eurasian Economic Union (EAEU) framework.
According to a joint statement issued after Xi-Putin talks, China supports Russia promoting regional integration within the EAEU framework and agrees to launch talks with the EAEU on an economic and trade cooperation deal.
The move will open up a new chapter of cooperation between China and the EAEU, said Chinese Minister of Commerce Gao Hucheng said.
The EAEU was established on the foundation of a customs union consisting of Russia, Belarus and Kazakhstan and came into birth on the first day of 2015. The trade bloc, now also consisting of Armenia and Kyrgyzstan, covers a huge market of 170 million people on vast land in central Eurasia.
China is ready to introduce institutional arrangements to facilitate trade with the EAEU and finally to build a free trade zone with it, Gao said.
EAEU Trade Minister Andrey Slepnev said that the EAEU will make great efforts to facilitate trade with China and push forward bilateral economic cooperation in various fields in a bid to lay a solid foundation for the establishment of a free trade zone.
"Previously, many Western critics have argued that China's Silk Road Economic Belt Initiative would clash with the EAEU construction. But if we take into consideration the nature of the Chinese economic proposal, the two initiatives are in effect highly compatible and could even uphold each other," Chen Yurong, Director of the Department for European-Central Asian Studies under the China Institute of International Studies, said in an interview with Beijing Review.
All EAEU members maintain close economic and trade ties with both China and Russia, which provides a foundation for economic cooperation on a higher level, Chen said.
More importantly, China and EAEU members maintain strong and stable partnership, which offers a solid base of political mutual trust. For example, China and Russia has characterized their relationship as a comprehensive strategic partnership of coordination. China has also established comprehensive strategic partnership with Kazakhstan and Belarus.
"In the future, the Silk Road Economic Belt and the EAEU can together spur the economic growth of Eurasian countries," Chen said.
Yang Cheng, an associated professor of Russian studies at East China Normal University, told Shanghai-based China Business News that it needs fresh new ideas to dock the Silk Road Economic Belt Initiative and the EAEU construction.
He suggested that both parties should take follow-up measures with a step-by-step approach on the basis of mutual understanding and sharing.
When the establishment of the Silk Road Economic Belt completes, it will link up production bases and consumer markets between Europe and Asia. According to Yang, many countries on the central part of the Eurasian continent, which were left behind by the fast pace of economic globalization, will benefit from the initiative and gained inclusive development while integrating them into global trade," he said.
A key factor to help Russia embrace China's regional development ideology is the West's sanctions against Russia over the Ukrainian crisis, said Wang Ning, Director of the Russian Studies Center of Shanghai International Studies University.
After the outbreak of the Ukrainian crisis, sanctions imposed by the United States and the EU have dealt a heavy blow to the Russian economy, causingcurrency devaluation and a drain of foreign investment.
Under these circumstances, "Russia's economic shift toward Asia is a natural result, which could help ease sanctions of the West through enhance cooperation with China," Wang commented.
China has been Russia's biggest trading partner for five consecutive years, with trade between the two countries exceeding $95 billion in 2014. Bilateral trade is expected to reach $100 billion this year and to double by 2020, according to Andrey Denisov, Ambassador of Russia to China.
Currently, China and Russia have stretched their practical cooperation on various fields for energy, infrastructure construction, finance and aerospace. For example, China and Russia will work together to build the first high-speed railway in Russia from Moscow to Kazan. The project is expected to be completed before the 2018 in order to serve the FIFA World Cup hosted by Russia.
Belarus
The Silk Road Economic Belt initiative also brings great opportunity to relations of China and Belarus.
Belarus's geographic location connecting main sub-regions of Eurasia--Eastern Europe and Central Asia, the Baltic states and the Black Sea--and the two large markets comprised of the EU and the EAEU provides it with a unique advantage in joining reviving the ancient Silk Road route, noted Li Jianmin, a researcher with the Institute of Russian, East European and Central Asian Studies under the Chinese Academy of Social Sciences.
Bilateral trade between China and Belarus has enjoyed a remarkable growth in recent years, said Feng Yujun, Director of the Russian Studies under the China Institutes of Contemporary International Relations.
The Silk Road Economic Belt initiative will bring more impetus to promote cooperation between the two sides, Feng added.
The China-Belarus Industrial Park in Minsk initiated in 2014 is the largest cooperation project between the two countries and the largest foreign-funded project in Belarus. Covering an area of 91.5 square km, it is being built on the outskirts of Minsk under an agreement signed in September 2011. The two countries have agreed to build the park into a model project in the construction of the China-proposed Silk Road Economic Belt.
On May 12, Xi and Belarusian President Alexander Lukashenko attended a ceremony that witnessed the first group of companies being granted to conduct businesses in the park.
Belarus provides favorable conditions for the industrial park, such as preferential policies and tax reduction. Chinese technology companies and high-end manufacturers of electronics, biomedicine and chemicals are encouraged to establish their investment in the industrial park.
China and Belarus have also launched a large number of people-to-people exchange programs and enhance sub-national government-to-government cooperation. This year, 100 Belarusian university students will be invited to attend education exchange programs in China, Xi announced in Minsk.