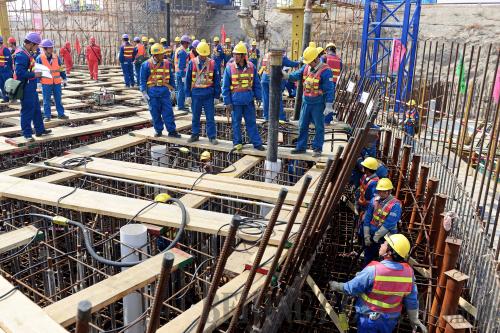 A POWERFUL START: Unit No.5 of the Hongyanhe Nuclear Power Plant in Liaoning Province begins construction on March 29 (SUN HAOSHENG)
Two generating units—titled No.5 and 6—of Hongyanhe Nuclear Power Plant in northeast China's Liaoning Province were approved for construction in March, resuming China's nuclear power program after Japan's nuclear crisis in 2011. On April 15, the State Council executive meeting approved the construction of a pilot unit by Fuqing Nuclear Power Plant in southeast China's Fujian Province, using the Hualong One reactor design, a domestically developed third-generation nuclear reactor design.
This year will see the beginning of the greatest number of nuclear power projects in a single year in China since the 2011 crisis, with six to eight units being approved and eight units going online, said Zhang Huazhu, Chairman of the China Nuclear Energy Association (CNEA), at the annual conference of the association on April 22.
According to CNEA figures, China ranks first in the world now with 26 generating units under construction, each with an installed capacity of 28.5 gigawatts. By the end of 2014, China's total installed capacity of nuclear power had reached 20.31 gigawatts, accounting for 1.49 percent of the country's total installed power capacity. In 2014, nuclear power generation rose by 18.89 percent to 130.6 billion kilowatt-hours, accounting for 2.39 percent of the country's total power generation.
Zhang said that the period before 2030 will be crucial in China's nuclear power development. In the coming decade, China must maintain a rapid pace in its nuclear power endeavors in order to meet the goal set forth by the Energy Development Strategy Action Plan (2014-20) published by the State Council in November 2014. He also believed that China should resume new nuclear projects in coastal areas as soon as possible and accelerate research on inland nuclear projects.
According to the CNEA, the association will promote construction of more inland nuclear power plants during the 13th Five-Year Plan period (2016-20) and construction of a fourth-generation nuclear power plant in Ruijin, east China's Jiangxi Province, will begin in 2017.
Meanwhile, new laws and regulations regarding nuclear power are under preparation and will supplement the surge in nuclear power in China.
Wang Bingwen, an official from the State Administration of Science, Technology and Industry for National Defense, said the Atomic Energy Law is expected to be passed by the end of this year. The National Nuclear Safety Administration said the Nuclear Safety Law will be submitted for deliberation ahead of schedule.
The resumption of inland nuclear power has also been put on the country's agenda. Zhang said the CNEA has published a study on several important issues regarding the construction of inland nuclear power plants and will push forward construction of such plants during the 13th Five-Year Plan period.
Shu Weiguo, chief economist of China Nuclear Engineering Group Corp. (CNECC), said the feasibility report for the 600-megawatt high-temperature gas-cooled reactor in Ruijin has passed an assessment by an expert group organized by the government.
Ready to go
Having been kept at bay since 2011, nuclear power groups all over China are anxious to begin construction of new projects.
Xing Ji, chief designer of Hualong One nuclear reactor design developed by China National Nuclear Corp. (CNNC), said that using the Hualong One design, the No.5 and 6 units of Fuqing Nuclear Power Plant have passed the final expert evaluation organized by the National Nuclear Safety Administration, and will start construction between April and May. The first reactor using the Hualong One design will be put into commercial use in July 2020.
He said this technology is of great significance in implementing the national nuclear power development plan, in guaranteeing the country's energy security, in improving the environment and in promoting exports of China's nuclear power technologies.
Xian Chunyu, chief designer of China General Nuclear Power Group (CGNPC), another developer of Hualong One design, said the No.3 and 4 units of Fangchenggang Nuclear Power Plant in south China's Guangxi Zhuang Autonomous Region are undergoing preparation, and their construction is expected to begin in July.
Wang Yong, assistant to the president of the Shanghai Nuclear Engineering Research and Design Institute, said Shidaowan Nuclear Power Plant in east China's Shandong Province will soon gain official approval. The plant uses the CAP1400 technology, which is based on the third-generation technology of AP1000 pressurized-water reactor.
Better than ever
China is also preparing to ship its largest nuclear export to date.
Nuclear technology is expected to become another exported product for China following the success of its high-speed railways, and various nuclear power groups are eager to go global and promote third-generation units with independent intellectual property rights.
Xing said that in 2013, CNNC sold two ACP1000 reactors to Pakistan, and the Pakistan program will begin construction by May. According to a nuclear power agreement signed by China and Argentina in February, the two countries agreed to appoint CNNC to execute their cooperation agreement.
According to a report by the Global Times website in April, China will export five nuclear reactors with Hualong One design to Pakistan with a value of $15 billion, which will represent the country's largest ever single nuclear export.
In keeping with its determination to go global, China has continued to serve its neighbors through cooperation in nuclear power construction.
According to Xing, CNNC has made progress in a nuclear project in Egypt, and the company is now negotiating for projects in Saudi Arabia, South Africa, Singapore and Sudan, all of which are interested in China's Hualong One technology.
CGNPC chief designer Xian said the British Government has agreed to Chinese companies's participation in the construction of new nuclear projects in the country. Chinese companies may enter two projects: the Hinkley Point project will use EPR technology, a third-generation pressurized-water reactor design, and the Bradwell B project is likely to use the Hualong One design. CGNPC is also negotiating exports of nuclear technology to South Africa, Romania, Turkey, Czech and Poland.
According to CNECC chief economist Shu, their group is promoting industrial application of high-temperature gas-cooled reactors in Saudi Arabia, Dubai and South Africa. In April, the company signed a memorandum of understanding (MOU) with South Africa on nuclear power cooperation. It will soon sign an MOU with Saudi Arabia on nuclear power and renewable energy cooperation.
Xian said currently 85 percent of the equipment for reactors with Hualong One design has been developed by China; and after the technology is widely used, at least 95 percent of the equipment will be supplied by Chinese companies.
One thing is clear—China has resumed its nuclear production in full force and hopes to make a global impact.
Copyedited by Kylee McIntyre
Comments to wangjun@bjreview.com