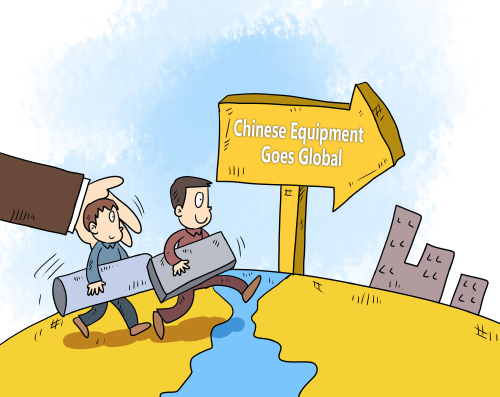 (JUFENG/CFP)
Equipment industries could soon present a viable way out for China's sluggish exports. At a State Council executive meeting on January 28, Chinese Premier Li Keqiang made clear his decision to promote big-ticket items such as railways, nuclear power and other Chinese equipment in overseas markets.
The government will step up efforts in exploring overseas markets for railway, nuclear power and other large-scale equipment sales by setting up joint venture companies or public-private partnerships in targeted countries, said a statement released by the State Council after the meeting.
Industries with overcapacity, such as steel, nonferrous melting, building materials and textiles, also have roles to play in the plan to raise exports from the world's top trader in merchandise, according to the statement.
The statement also said that this decision will facilitate the creation of another engine to drive the country's exports and help with the much-needed upgrading of domestic industries.
Strategic change
"Promoting our goal of 'going global' through exporting Chinese equipment and conducting international cooperation in production capacity is necessary for China's economic development at present," said Premier Li. "This will not only be conducive to economic development but also offer significant opportunities to promote industrial upgrading."
From November 2014 to January 2015, the concept of "going global" has been discussed at four State Council executive meetings. During these three months, the State Council held a total of 12 executive meetings.
"Premier Li has made frequent overseas visits and brought back big orders. This is an important feature of the 'new normal' of Chinese economy, a 'new normal' of integrating into the world economy," said Wang Shengchun, a research fellow at the Center for Economic Reform of the Central University of Finance and Economics.
"The process of China's integration into the world economy has gone through stages of attracting foreign investment, exporting labor-intensive products, and purchasing natural resources, and it is now entering the stage of transferring production capacity and exporting complete equipment," Wang said. "With hi-tech content and large investment, complete equipment will play a significant role in supporting Chinese companies' development, industrial upgrading and product innovation through providing full services."
"This is a significant strategic change," said Zhang Shuguang, a research fellow with the Institute of Economics of the Chinese Academy of Social Sciences. He said it is time for China to, through outbound investment and equipment export credit, boost exports of products and deploy trade in services so as to accelerate economic transformation.
Zhang's views are based on three observations: that China's industry has developed well within the past three decades; that it has accumulated considerable foreign exchange reserves; and that the country's emerging service sectors, such as finance, insurance and consultancy, have developed rapidly and they need further growth through international competition.
Key strength
During the World Economic Forum's annual meeting held in Davos, Switzerland in January, Premier Li stated that China will explore new approaches to investing in other countries. China's high-speed railway, nuclear power, aviation, telecommunications and other sophisticated manufacturing capacities are gradually being introduced to other countries. They can meet the market demand of the recipient country. This indicates that high-speed railways and nuclear power will be major sectors for China's strategy of "going global" to target in the new era.