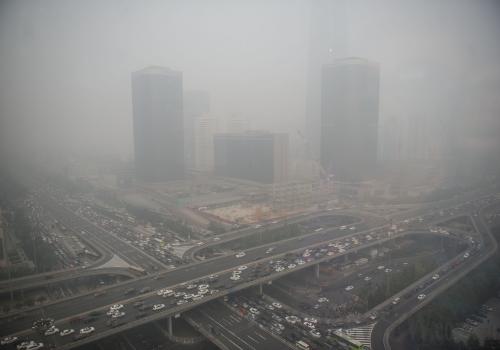 POLLUTION: Beijing cloaked in a heavy smog on October 20, 2014 (LUO XIAOGUANG)
A mining company that polluted a reservoir has recently been punished under China's new Environmental Protection Law, which took effect on January 1.
In August 2014, the Huangchangping Mining Co. in central China's Hubei Province began trial production of pyrites without formal approval of the local environmental watchdog and dumped untreated waste water on nearby land. The toxic sewage seeped into groundwater that then flowed into the Qianzhangyan Reservoir, tainting the drinking water supplies for people living in Wushan and Fengjie counties in Chongqing Municipality neighboring Hubei.
This cross-regional pollution caused direct economic losses of 3.34 million yuan ($534,000). On January 20, the Ministry of Environmental Protection (MEP) announced that the mining company had been fined 1 million yuan ($159,900) for pollution violations. Cheng Jinyin, a manager of Huangchangping Co., has been remanded in custody on environmental pollution charges and two local environmental officials have also been sacked for lax supervision.
The revision
There have been a number of similar cases to be taken up since the revised Environmental Protection Law was enforced, with it laying out much harsher punishments for people and companies that cause heavy pollution.
With decades of rapid economic development and a large population, China has long faced serious pollution problems. Despite this, the country's Environmental Protection Law had not been revised since it took effect in 1989, with the original provisions unable to meet the ever changing challenges facing China's environmental protection efforts.
A report issued by the Ministry of Land and Resources (MLR) in April 2014 revealed that nearly 60 percent of monitored areas in China had "very poor" or "relatively poor" groundwater quality. Another report issued jointly by the MEP and the MLR in the same month showed that about 16.1 percent of the country's soil was contaminated.
In March 2014, China "declared war" against pollution and pledged to fight it with the same determination the country battled poverty, according to a work report of the Central Government submitted to the annual session of the National People's Congress, the country's top legislature. On April 24, 2014, the amendment of the Environmental Protection Law was adopted after four readings. This highlights the importance of the legislation in the pursuit of sustainable development, as it is rare in China for a law or amendment to go through more than three readings before being passed.
The revised law sets environmental protection as the country's basic policy. In addition to imposing harsher punishments to environmental offences, it has specific articles and provisions on tackling smog, making citizen's more aware of environmental protection and protecting whistleblowers.
According to the revised law, if an enterprise illegally discharges pollutants, is fined and asked by authorities to correct its practices, but fails to do so, then it may face a fine that accumulates daily. In the past, enterprises received a one-off fine.
The responsible persons, according to the new law, would face up to 15 days in detention if their enterprises dodge environmental impact assessments and refuse to suspend production after being issued a ban. The penalty will also apply to executives of businesses that discharge pollutants without required permits and refuse to suspend the discharge after administrative bodies issue a ban, as well as those who attempt to shirk supervision through means including forging monitoring data or improperly operating pollution prevention equipment. The length of their detention will depend on the impact of their violations.