Huawei makes miracles. This is a contention once again lent credence by its astoundingly good performance in 2014, helped in no small measure by strong smartphone sales and continuous dedication to technological innovation.
In its annual report audited by KPMG, a global accounting firm, the Chinese technology firm raked in 288.2 billion yuan ($46.5 billion) in global sales revenue in 2014, surging 20.6 percent year on year. Its net profit rose 33 percent to 27.9 billion yuan ($4.5 billion).
Huawei overtook Ericsson AB to become the largest telecom equipment manufacturer in the world in 2013. The company, originally a supplier of network gear to telecom carriers, is trying to establish itself as a global smartphone brand.
The revenue of Huawei's consumer group, consisting mostly of smartphone sales, rose 32.6 percent last year to 75.1 billion yuan ($12.1 billion).
According to data from research firm International Data Corp. (IDC), Huawei returned to the list of top five worldwide vendors, emphasizing its midrange and high-end smartphones (P Series and Mate Series respectively), and saw continued success with its Honor line.
According to IDC, Huawei ascended to the spot of fourth smartphone vendor in the world by accounting for 6.25 percent of global shipment in the fourth quarter of 2014, trailing only Apple, Samsung and Lenovo.
Huawei shipped 75 million smartphones in 2014, up 45 percent from 2013. The market share of Huawei flagship smartphones increased significantly, with over 4 million Ascend P7 units shipped to well over 100 countries and regions. The Ascend Mate7 was the talk of the high-end market, and demand exceeded supply. More than 20 million smartphones under the Honor brand were sold through online channels worldwide in 2014, skyrocketing 30-fold from 2013, according to the annual report.
The company has claimed that it will set its sights on overseas smartphone markets in 2015, pledging to sell 100 million smartphones.
Huawei's rise can be to a great extent attributed to its heavy investment in research and development (R&D).
Huawei invests over 10 percent of its annual sales revenue into R&D. The company has over 70,000 product and solution R&D employees, comprising more than 45 percent of its total workforce worldwide. In addition, it has set up 16 R&D centers in countries that include Germany, Sweden, the United States, France, Italy, Russia, India and China.
In 2014, Huawei invested 40.8 billion yuan ($6.6 billion) in R&D, up 29.4 percent from 2013 and accounting for 14.2 percent of Huawei's 2014 sales revenue. Over the past 10 years, Huawei has invested more than 190 billion yuan ($30.6 billion) in R&D. As a result, Huawei was in possession of 38,825 patents as of the end of 2014, according to the company's annual report.
As a globalized company, 62.2 percent of Huawei's sales revenue is generated from overseas markets. Xiang Ligang, a commentator on the communications industry, said that's an achievement rarely seen among Chinese companies.
While many such companies are focused on sales and marketing or associating with the government, Huawei is purely fixated on solid technology. That's what makes the company so strong, and that's the competitive edge its rivals can hardly transcend, said Xiang.
"Huawei will continue to invest heavily in innovation, in areas including cloud computing, big data technologies and 5G mobile networks. We believe our company will be able to seize the historic opportunity for development brought about by digitalization," said Hu Houkun, Rotating and Acting CEO of Huawei.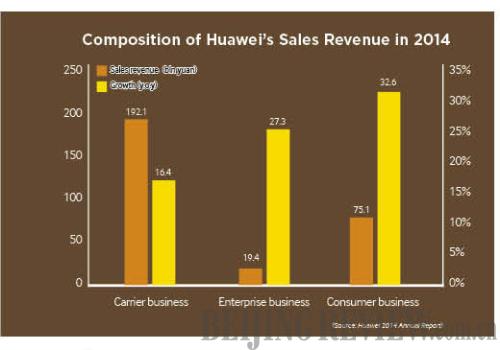 Huawei Investment & Holding Co. Ltd.
Huawei, founded in Shenzhen, south China's Guangdong Province in 1987, is a leading information and communications technology (ICT) solutions provider.
Huawei made its name by selling telecom equipment globally, and specializes in building the routers and switches needed for national communication systems. To date, the company has expanded its businesses to end-to-end capabilities and has strengths across telecom carriers, enterprises and consumers.
In 2013, Huawei was ranked 285th on the Global Fortune 500. Its telecom network equipment, IT products and solutions, and smart devices are used in 170 countries and regions, serving more than one third of the world's population.
Copyedited by Kylee McIntyre
Comments to zhouxiaoyan@bjreview.com