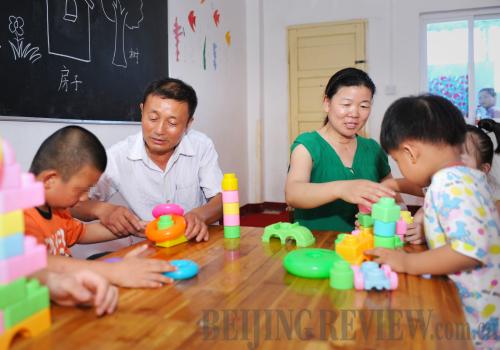 ADAPTING: Autistic children play in a therapy center in Shucheng County, east China's Anhui Province, on July 27 (DU YU)
On September 14, a 9-year-old autistic child in Shenzhen, south China's Guangdong Province, died after leaping off the fifth-floor balcony of his home, not long after he was suspended from school for biting other students. He was still wearing his school uniform and carrying a schoolbag at the time.
On the afternoon of his suspension, his mother took the boy home upon the school's requirement, where she locked him inside and left.
The mother believed that her son wanted to go back to school, but when he could not open the door, he instead opened the window and jumped down from the balcony.
The tragic death of the boy called public attention to the difficulties autistic children face in finding acceptance in regular schools.
Autism is a neural disorder characterized by impaired social interaction and communication, and restrictive and repetitive behavior.
Inferred from international data on the disease's prevalence of one in 166 children, China now has about 1.64 million autistic children, said a report released by the China Philanthropy Research Institute in April. Currently, autism is classified as a mental disorder in the country.
Several days before the death of the 9-year-old autistic child in Shenzhen, a 15-year-old autistic boy living in the same city was also dismissed from school.
The boy, known as Longlong, was accepted into grade five of Baocheng Primary School in Baoan District as a temporary student this spring.
Lin Xiyu, principal of the school, said that the school accepted Longlong on a probationary basis even though he wasn't the usual age for fifth graders in China, which is typically 11 years old.
The boy's mother, a nurse, said that in the beginning, the school was friendly. She recalled that the boy's head teacher Cai Shulian held a class meeting, calling on students to help Longlong.
Longlong's mother accompanied him to class for some days, and then after she returned to work, the boy went to class alone.
Cai said that Longlong behaved well when his mother was present, but after his mother left, he began to act strangely. For instance, he waved his fists, rubbed saliva on classmates' textbooks and desks, and screamed in class. "His behavior was disruptive and frightening to students in the class," Cai said.
Right before the start of this fall semester, Longlong's mother received a message from his teacher on his removal from the school.
Nonetheless, Longlong's mother continued to hope that the school would accept the boy, so she continued to send the boy to school in the first few days of the new semester. On September 4, Longlong went to class and found that his desk had been removed. That evening, his mother received another message from the teacher saying that the school could not accept him into the class.
Cai said that although she was sympathetic to Longlong, she faced pressure from other parents and her own inexperience in special education.
The school received a letter signed by parents of 19 students out of a total of 46, opposing Longlong's presence in the class, according to Cai.
In the letter, parents expressed their concern about the Longlong's disciplinary and hygiene problems. "Autism is a disorder," the letter said. "There are special schools for such children. Why should a child like this be put in this school?"
Longlong grew up in a single-parent family, and was diagnosed with autism at age 4.
In September 2006, when Longlong was 9 years old and in the third grade, he was asked to drop out of a regular school for posing safety hazards. One year later, Yuanping Special Education School in Shenzhen admitted him, where he stayed for four years.
Longlong's mother said that the therapeutic class in the special education school taught students no more than counting simple numbers and reading English letters. She thought that Longlong could learn much more, so she hired a private tutor for the boy, and Longlong completed courses in grade four.
Longlong had a relatively high IQ and learning ability among students in the school, according to Zhong Guojian, the boy's teacher. "Despite his relatively low self control, Longlong showed no aggressive behaviors in the four years he spent in the special school," Zhong said.
Attending a regular school could help the boy associate with other children and integrate into the society, Zhong said.