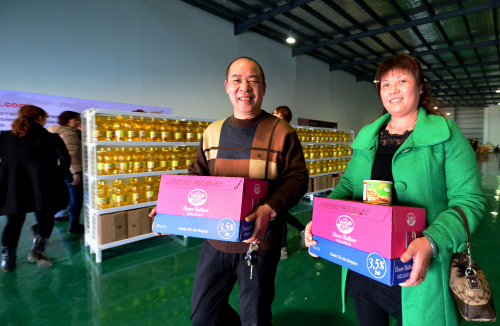 MILKING SUCCESS: Two local residents buy milk produced in Germany from a direct selling center for foreign products at the Fuzhou sub-zone of the China (Fujian) Pilot Free Trade Zone on March 13 (WEI PEIQUAN)
Maintaining individuality
Li Guanghui, Vice President of Chinese Academy of International Trade and Economic Cooperation, said the three new FTZs should develop their own strengths while following the steps of the Shanghai FTZ.
For example, the Guangdong FTZ will carry out programs on economic integration with Hong Kong and Macao, the Fujian FTZ will stress trade ties with Taiwan, and the Tianjin FTZ will highlight coordinated growth with its neighbors--Beijing and Hebei Province, Li elaborated.
Zhou Linsheng, President of Guangdong Society of Economic Reform, said the Hong Kong and Macao economies are highly complementary to Guangdong's economy.
"Guangdong has a lot to learn from the financial, logistics, technology industries in Hong Kong and Macao, whereas the vast market in Guangdong Province offers a great opportunity for Hong Kong and Macao," said Zhou.
Pei Changhong, Director of the Institute of Economics with the Chinese Academy of Social Sciences, said financial innovations in Fujian Province should prioritize cooperation with Taiwan.
"As for Fujian, its biggest edge lies in promising cross-Straits financial cooperation with Taiwan, such as yuan convertibility under the capital account. For instance, Fujian residents should be allowed to buy assets or financial products denominated in Taiwanese currency, and the other way around."
Fei also stressed originality as a key to success in FTZs.
"When opening up the service sector in FTZs, everyone is excited about financial reforms, but some experiences in Shanghai can hardly be replicated elsewhere. Each FTZ should have its own features," Fei said.
According to the Tianjin Municipal Government, the three sub-zones of the Tianjin FTZ will have different focuses--the Tianjin airport will be dedicated to high-end manufacturing and logistics industries, the Tianjin port will develop modern service industry such as international trade and financial lease, and the Binhai New Area will serve as a platform for the development of financial industry and service trade.
Liu Enzhuan, Executive President of the Tianjin Academy of Free Trade Area, said financial innovation in Tianjin will be mainly focused on financial lease, the yuan offshore market and cross-border use of the Chinese currency.
The Guangdong FTZ includes three sub-zones in Hengqin, Qianhai and Nansha, while the Fujian FTZ includes three sub-zones in Xiamen, Pingtan and Fuzhou. The logistics of achieving differentiated development between different sub-zones within the province and between provinces becomes a key issue facing those districts.
The three sub-zones of the Guangdong FTZ have their own development strategies--Nansha will be dedicated to developing the shipping industry, Hengqin will develop the biochemical and tourism industries and Qianhai will focus on modern service and cross-border financial industries. However, some parts of the overall design overlap.
Chen Bo, Deputy Director of the Research Center on Free Trade Zone under the Shanghai University of Finance and Economics, said the government should refrain from too much intervention with formation of specialties in different FTZs.
"Those features should be a natural product of local conditions, instead of government policies," Chen said.
Copyedited by Kylee McIntyre
Comments to zhouxiaoyan@bjreview.com