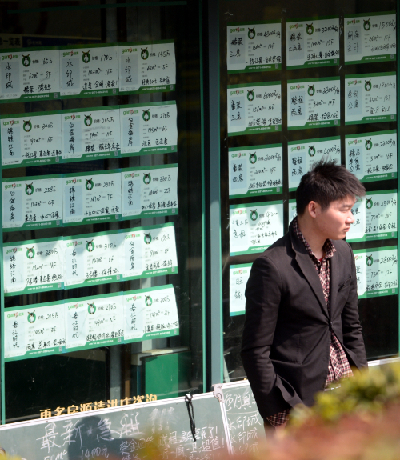 EXPECTING THE RUSH: A real estate agent waits for clients in front of his work outlet in Binjiang District, Hangzhou, capital of east China's Zhejiang Province, on March 1 (WANG DINGCHANG)
Zhou Jun is the manager of a Home Link outlet, a ubiquitous real estate agency in Beijing. Having worked at the company for over eight years, Zhou has witnessed ups and downs in the housing market. Recently, Zhou has sensed a new round of intense changes coming, as regulators have loosened housing market policies to stabilize the sagging sector.
On March 30, the People's Bank of China, the country's central bank, cut the minimum down payment for second homes from 60 percent to 40 percent. The same day, the Ministry of Finance (MOF) announced it would relax taxation rules on home sales the next day.
"Several clients of mine were anxious and called me to ask about on the new policies immediately after the release," Zhou said.
"Previously, many people couldn't afford to buy homes because the down payment requirement, the interest rate for mortgage loans and the taxes were too high. Loosening lending rules and reducing home sales taxes are definitely the right things to do if the country wants to lift the lagging property market," Zhou said.
The housing market has been sluggish since March 2014 following the price surge from 2012 to 2014.
The demand is there--you just have to make it cheaper and easier for them to buy," Zhou said.
To prevent the lackluster property market from pulling down the economy, central authorities have stepped up over the past year by loosening home-related policies, including lifting home purchase curbs, cutting interest rates, and in most recent efforts, urging local governments to balance their land supplies, reducing down payment requirements and loosening taxation rules.
The policy jumble aims to spur market demand and de-stock housing inventory. As speculative activities have been basically squeezed out from the market, more easing policies are expected to be unveiled to support people's housing demand, especially the demand to buy a second home to improve existing living conditions. However, unsold or unoccupied homes and people's expectations of further price declines could temper a strong recovery in the sector.
A rising market
In addition to a reduction of the minimum down payment for second homes, the central bank also cut the minimum down payment ratio for first-time home buyers who use the housing provident fund from 30 percent to 20 percent. The housing provident fund is a government-designed savings plan that allows Chinese workers and their employers to use part of their monthly wages to finance future home purchases. If buyers have used the fund to buy their first home, the ratio for a second home remains at 30 percent if all loans for the first are paid off.
On March 31, the MOF canceled the sales tax on pre-owned homes sold two years or more after purchase. Previously, owners selling homes within five years of purchase had to pay such taxes.
On March 27, a joint circular from the Ministry of Land and Resources and the Ministry of Housing and Urban-Rural Development called for tailored land supply for different regions according to local conditions to tackle problems facing the country's highly fragmented housing market. According to the circular, cities with massive housing inventories should reduce or stop new land supply, while cities where demand outstrips supply should increase new land supply.
The frequent issuance of new policies came after the Central Government specifically targeted stabilizing the property market, which accounts for roughly 15 percent of the country's economy and affects 40 industries including glass, cement and steel.
Guan Qingyou, Assistant Dean of Minsheng Securities Research Institute, said the government eased housing policies due to sluggish sales, massive inventory and declining investment in property construction.
"An inferior property sector will not only weigh on the slowing economy but also reduce local governments' fiscal income, as they depend heavily on the sales of land," Guan said.
Zhang Dawei, chief analyst with property information provider Centaline, said those new policies stretch way beyond market expectations.
"Especially the lowering of down payment to 40 percent for second homes--that's probably the loosest policy in history," Zhang said. "This will definitely spur demand in the housing market."
According to Zhang, this demand will increase at least 10 percent because fewer down payments are required, and the transaction volume will increase at least 30 percent month on month in first- and second-tier cities. Meanwhile, he projected the housing price will start increase in first-tier cities.
"These new policies are a sign that the Central Government wants to encourage people to buy a second home to improve their living conditions. Local governments will follow suit to release pro-growth measures to lift the sector," Zhang said.
Hu Jinghui, Vice President of BA Consulting and 5i5j Group, a real estate company in China, said loosening taxation rules will reduce costs for home buyers and therefore shore up transactions.
"Those new policies are mainly targeted at people who want to buy second homes. That particular group has become the key to stabilizing China's housing market," Hu said.
Huang Yu, Executive Vice President of China Index Academy, a Beijing-based property research organization, agreed with Hu, projecting that such affects will be long-lasting.
"Judging from China's population structure, the demand for buying a second home will gradually increase from 2016 and will account for the bulk of the demand by 2020," said Huang.
In 2011, skyrocketing home prices forced the Chinese Government to roll out restrictive measures, such as requiring higher down payments, increasing the lending rate for second home purchases and banning the purchase of a third home.
The central bank cut the benchmark deposit and loan interest rates twice since last November, and most cities removed or loosened their home purchase bans. A total of 46 Chinese cities had imposed bans on the purchase of a third home in efforts to curb speculation in the market. At present, only five cities--Beijing, Shanghai, Guangzhou and Shenzhen in Guangdong Province, as well as Sanya in Hainan Province--still maintain the ban.
Those measures, however, failed to revive China's housing market.
In March, home prices in 100 cities monitored by the China Index Academy fell 4.35 percent year on year, the sixth consecutive year-on-year drop.
Out of 70 major cities surveyed by the National Bureau of Statistics (NBS), 66 reported a drop in new home prices in February from the previous month, up from the 64 cities in January. The total floor space of new residential housing projects sold declined 17.8 percent year on year during the January-February period while sales slumped by 16.7 percent, according to the NBS.
Sluggish sales and falling prices are partly because of China's enormous housing inventory. Due to the housing price surge in previous years, real estate developers rushed to build housing projects. As the population gathered in first- and second-tier cities, some of those projects were uninhabited years after construction, resulting in so-called "ghost cities" in some third- and fourth-tier cities.
According to the NBS, there had been 622 million square meters of unsold homes as of the end of 2014, an equivalent of over 6 million homes if each home is 100 square meters.
"Generally speaking, China's housing market still has a large inventory to digest," said Zhu Min, Deputy Managing Director of the International Monetary Fund (IMF). "It may take somewhere around three years before the housing supply falls to a normal level."
Zhang Yansheng, Secretary General of the Academic Committee of the National Development and Reform Commission, said central authorities' recent moves signal a change in their regulation mindset. "Regulation for the housing market has shifted from the previous stringent measures aimed at reducing asset bubbles and leverage to a mindset more focused on seeking a more balanced relationship between supply and demand," he said.
The lukewarm future
Zhang Dawei, the chief analyst with Centaline, said it's the best time to buy a house in first-tier cities, due to the new round of expected easing on housing policies.
Zhang said China's housing market has shown strong signs of differentiated development.
"First- and second-tier cities are mired in housing price adjustment, but by virtue of strong market demand, they are recovering faster than third- and four-tier cities, which still have the risk of housing market collapse due to the large inventory."
A report from Minsheng Securities said the housing market is unlikely to make a stunning recovery.
"Even if the housing price increases in the short run, property will account for a smaller proportion of people's assets in the future. The new regulation mindset would be a dual-track system, the government being responsible for providing housing for the poor and leaving the rest to the market to decide," read the report.
Zhou, the Beijing-based veteran real estate agent, forecasted that the capital's housing market would stage a strong rebound in transaction volume and a mild increase in housing price in 2015.
"However, there won't be a surge like in 2009, when the price of housing could skyrocket from 5,000 yuan ($800) per square meter to 10,000 yuan ($1,600) per square meter within a month," Zhou said. "Right now, buyers are extremely rational. The days when people thought they could make money by buying and selling homes are long gone. Now, they are buying because they need a place to live."
Copyedited by Kylee McIntyre
Comments to zhouxiaoyan@bjreview.com