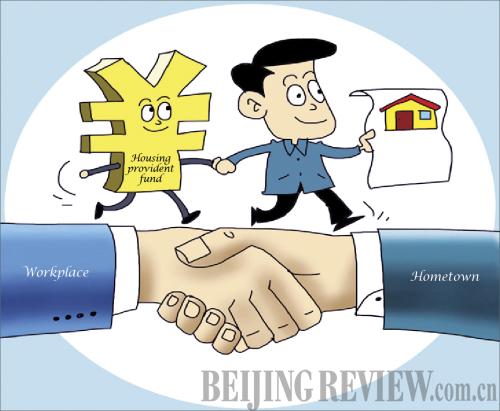 (CFP)
The real estate market accounts for about 15 percent of the broader economy and affects 40 industries ranging from home appliances to glass, cement and steel. In the face of a flagging property sector, the Chinese Government plans to use alternative drivers—such as infrastructure construction and reform measures—to bolster growth in the world's second largest economy.
Earlier this year, many cities removed or loosened their home purchase bans in the sluggish property market. A total of 46 Chinese cities had imposed bans on the purchase of a third home in efforts to curb speculation in the market. At present, only five cities—Beijing, Shanghai, Guangzhou and Shenzhen in Guangdong Province, and Sanya in Hainan Province—still maintain the ban.
But scrapping purchase bans seems to have had little effect in lifting the sector.
According to the National Bureau of Statistics, out of 70 major Chinese cities, new homes in 68 saw month-on-month price declines in August, compared with 64 in July. The total floor space of new homes sold declined 10 percent year on year during the January-August period while sales slumped by 10.9 percent. The floor space of new housing projects nosedived 14.4 percent during the same period.
Analysts say the relaxation of lending rules is a more aggressive measure to save the property sector, which is extremely sensitive to credit conditions.
Du Bingguo, head of research for the China Index Academy, said the new lending policy will help unleash demand from those who wished to upgrade their homes but were unable to buy a house under the previous stringent policies.
"But what is more important is it has shifted market sentiment, which will boost turnover and halt the price declines," he said.
Du said he expects sales will hit their yearly peak in the fourth quarter, exceeding those of 2013's last quarter.
Xu Hanfei, Chief Bond Analyst with Guotai Junan Securities, claimed softer demand in the property sector and a slump in property investment have imposed an increasingly worsening drag on the broader economy.
"Loosening the constraints on home lending to a certain extent can release pent-up demand and boost the struggling sector," Xu wrote in a research note.
Spurred by the new policy, transactions of home purchases have rebounded. According to a report from the China Index Academy, there has been a conspicuous rebound in home purchase deals since the new lending policy was released on September 30. From October 6-12, 33 out of the 41 cities monitored saw month-on-month increases in home purchases. First-tier cities are leading the rebound in sold floor space by increasing 101.6 percent compared to the week before.
According to a report from the China Index Academy, compared to the removal of home purchasing curbs, credit loosening will play a larger role in boosting the cooling property market. Some property developers even planned to raise prices after the new policy was introduced.
"It will take some time for the effects of the new policy to kick in, because some home buyers are still very cautious. Therefore it's too early to raise home prices," said Huang Yu, Executive Vice President of the China Index Academy.
On the other side of the equation, experts say the maximum 30-percent discount on home loan rates will not reach many borrowers in practice as most banks are reluctant to offer large discounts on mortgages for fear of hurting their earnings.
"In the second half of 2008, banks were willing to offer 30-percent discounts on home loan rates because they were able to attract deposits at very low prices. But great changes have taken place over the past six years. The boom in Internet finance services has forced banks to launch high-yield money management products to attract deposits, pushing up financial costs in banks. If they continue to offer 30-percent discounts to home buyers, they will be operating at a loss," said Yi Xianrong, a researcher with the Institute of Finance and Banking under the Chinese Academy of Social Sciences.