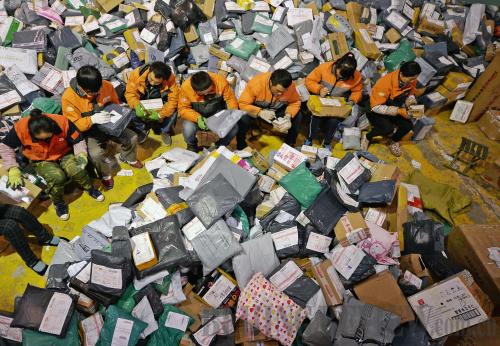 BUSY SEASON: Workers of STO Express Co. Ltd. sort out packages in Yinchuan, Ningxia Autonomous Region on November 11 (LI RAN)
According to statistics from Analysys International, a leading business information provider in China, the value of transactions through mobile shopping in China totaled 210.32 billion yuan ($34.34 billion) in the third quarter of 2014, up 238.7 percent year on year. By now, the transactions have maintained a quarterly growth rate of more than 200 percent for seven consecutive quarters, surging 10 times within the past two years.
"The mobile era of Singles day is en route," said Wang Yulei, President of Tmall.com, who admitted that the mushrooming purchases made via mobile devices is far beyond his expectation. "During last year's Singles Day, its share was roughly 15 percent. Now, it has shot up to nearly 45 percent," said Wang.
To avoid dog-eat-dog competitions, e-commerce companies chose to seek differentiated and complementary development. Tmall.com concentrated its promotion on the Singles Day, while 360buy.com prolonged its sales campaign into a period of 12 days. Moreover, Sunning.com resorted to the online-to-offline promotion pattern by virtue of its large numbers of brick-and-mortar stores.
Che Hongliang, Vice Manager of Sunning's E-commerce Business in Beijing suggested that if the prices in physical stores are the same with online stores, consumers are more willing to try and buy home appliances on the spot. "The online-and-offline integration provides consumers with more convenient and comprehensive services," said Che.
In fact, traditional retailers are also trying to shift their attitude toward online shopping from resistance to embracement. While devoting themselves to the e-commerce campaign, some traditional retailers also think of creating their own offline shopping carnival. For instance, Intime Retail, a department store chain, once initiated a joint promotion with many other retailers in the trade in Qingdao, east China's Shandong Province this year.
Huge potential
"The online spending spree triggered by the Singles Day has cast a new light on the promotion of domestic consumption," said Premier Li Keqiang at an executive meeting of the State Council on October 29, noting that e-shopping can substantially drive the development of its upstream and downstream industries such as express delivery, and progress should be made in intensifying information base and logistical facilitation.
China's economy has entered a "new normal"—bidding farewell to explosive growth and going through a slowdown, and the service industry and consumer demand are likely to become the next growth points.
The refreshing sales miracle created by the Singles Day indicated the consumption capacity of Chinese people has huge potential to be tapped into, said Joseph Tsai, Vice Chairman of Alibaba Group, who believed the e-commerce penetration is now a mere 9 percent.
In the opinions on supporting the healthy development of domestic trade released on November 16, the General Office of the State Council had suggested to propel the development of online consumption by building a big data information service platform and integrating the online and offline systems.
"Among the three engines of economic growth—investment, consumption and export, consumption plays a major role in stabilizing growth and pushing forward economic structural reform," said Premier Li.