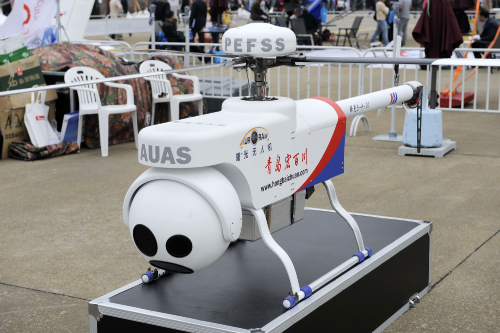 NEW HIGHLIGHT: A Chinese-made unmanned aircraft is displayed at the 10th China Aerospace International Exposition on November 14, 2014 (LIANG XU)
China has completed its third national economic census, and data collected by 3 million statisticians nationwide were published by the National Bureau of Statistics (NBS) on December 16, 2014. Results of the census, encompassing enterprise ownership, financial status, production capacity and research and development, show an improvement in economic structure between 2008 and 2013. In an interview with Xinhua News Agency, Ma Jiantang, Commissioner of the NBS, said the census results will serve as an important reference for the formulation of the country's13th Five-Year Plan (2016-20). Edited excerpts of the interview are as follows:
Compared with the results of the second national economic census, what changes have taken place in China's macroeconomy?
Ma Jiantang: During the past five years, China has overcome the shock of the global financial crisis, pushed forward sustainable development and carried out structural reforms. As a whole, China's economy has seen a remarkable expansion in size and continual improvements in structure and efficiency.
First, economic aggregate has been on the rise. From 2008 to 2013, the number of legal entities and employees soared by 52.9 percent and 30.4 percent, respectively. Enterprise assets shot up by 125 percent. China's GDP in 2013 amounted to 58.8 trillion yuan ($9.49 trillion).
Second, economic structure has been optimized. The service industry is gaining ground. The value-added of the service industry in 2013 stood at 27.59 billion yuan ($4.45 billion), accounting for 46.9 percent of the total GDP, up 5.1 percentage points from 2008. At the end of 2013, the number of legal entities and employees in the service industry made up 74.7 percent and 45.9 percent of the total, up 5.7 percentage points and 3.5 percentage points from 2008, respectively.
Census statistics also show signs of industrial transformation and upgrading, improved ownership structure, increasingly coordinated regional development, an expansion in the average size of enterprises in the less developed central and west China and enhanced job creation capacity.
Third, economic efficiency has increased steadily. Per-capita revenue of enterprises reached 781,000 yuan ($126,020) in 2013, an increase of 64.2 percent from 2008. The hi-tech manufacturing industry enjoyed profits of 723.4 billion yuan ($116.73 billion) in 2013, up 166 percent from 2008.
What kind of new trends in the economy do the census data indicate?
The census data show that China's economy has entered a "new normal" featuring economic slowdown, structural improvement and a shift in growth points. Despite a drop in GDP growth, changes have taken place in the service industry.
The service industry has been developing rapidly and its structure has been continuously optimized.
While the traditional service sectors have been held back by weak market demand and emerging industries, some key sectors and modern services have been progressing aggressively. The prospects of key service sectors such as commercial services, information services, and sci-tech services have been promising, especially for the Internet and related services, which witnessed a 26-percent increase of revenue in 2013.