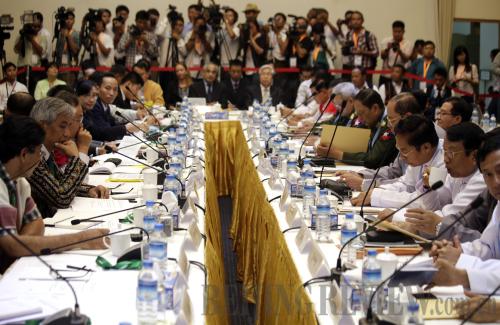 NEGOTIATIONS UNDER WAY: The seventh round of peace talks between representatives of the Myanmar Government and local ethnic armies is held in Yangon on March 17 (XINHUA)
The armed conflict in Myanmar's northeastern Kokang region once again spilled over into neighboring China's southwestern Yunnan Province on March 13 when a bomb allegedly dropped by a Myanmar warplane hit a sugar cane field in the Chinese city of Lincang, killing five people and injuring eight others.
At a daily news briefing on March 17, Chinese Foreign Ministry spokesman Hong Lei announced that China and Myanmar have launched a joint investigation into the deadly bombing incident and the Myanmar Government has also promised compensation to families of the victims of the bombing.
According to reports by local Chinese villagers, Myanmar warplanes have been seen frequently in their skies since Myanmar's government forces and an ethnic army in Kokang began fighting in February. On March 8, a Myanmar bomb hit a Chinese village, which destroyed some houses but caused no casualties.
When meeting with Chinese and foreign journalists in Beijing on March 15, Chinese Premier Li Keqiang said, "We have the responsibility and the ability to safeguard the stability of border areas with Myanmar and protect the lives and property of our citizens."
Refugee accommodation
Official statistics showed that Lincang has seen more than 60,000 arrivals of refugees since the outbreak of conflicts in north Myanmar. China has built seven refugee camps for those who have been displaced and provided food, water and medical services.
However, as the number of refugees flowing into Lincang continues to rise, some have been unable to enter the camp locations.
"The refugee settlements are not big enough to accommodate all of the refugees crossing the border into China. Thousands are living in refugee settlements or shelters that have been set up along the border with Myanmar by NGOs," said Jia Xiaoning, a volunteer worker who recently returned from Lincang, in an interview with Beijing Review.
Jia and one of her colleagues from Red Saloon, an NGO based in central China's Henan Province, paid a visit to the region in early March to distribute medicine and articles for daily use to refugees.
"The fighting was so fierce that some refugees were forced to flee their homes nearly empty-handed," said Jia. "Even though China has provided emergency food relief, there just isn't enough for everyone."
According to local officials, strict border management measures have been carried out in Lincang but the border remains open to refugees.
Besides those living in refugee camps and makeshift shelters, some Myanmar refugees have sought help from their Chinese relatives. Many of the people living at the border of Myanmar's Kokang and China's Yunnan share the same ancestry and language. Marriages between people across the border are common.
Lu Wencheng, a Myanmar refugee who fled with his wife and son, has lived in a makeshift house in a Chinese relative's yard since mid-February. But within a month of their arrival, the yard became cramped with five other families huddled together with cloth barriers to set their shelters.
Despite missing home, most refugees would not dare to go back at present. Jia said that that one of the refugees who attempted to return home to gather supplies was reportedly killed by Myanmar government troops. Moreover, many houses in Kokang have been burnt down amid the fighting.
Since the outbreak of the Myanmar conflict, the Chinese Government has reiterated its stance that what happens in north Myanmar is an internal affair of the country. However, as the escalation of the conflict has spelled more and more trouble for China, there have been growing calls among Chinese academics for China to play a more active and constructive role in promoting the peace process in Myanmar.
Xu Liping, a researcher on Southeast Asian studies with the Chinese Academy of Social Sciences, said that while China adheres to the principle of non-interference in others' internal affairs, an early return to peace and stability in Myanmar's northern region conforms to the interests of both the Chinese and Myanmar people.