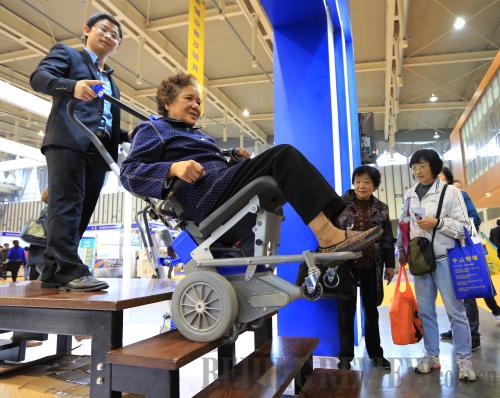 MOBILITY: A woman tests a stair-climbing wheelchair at an expo for elderly care services and products in Nanjing, Jiangsu Province, on November 1 (HAN HUA)
China's senior population, 60 or older, reached 200 million in September 2013 and nationwide an average of 24,800 people retire every day, equaling nearly one person every second, said Hu Xiaoyi, Vice Minister of Human Resources and Social Security, at a forum on China's aging society in Beijing on November 2.
Driven by sustained increases in average life expectancy, low birth rates and accelerated urbanization, the aging of China's population will become even faster in the future. Meanwhile, changing relationships and home duties caused by the family planning policy and population migration on an unprecedented scale mean that many older Chinese can no longer rely on support and care from their children like their parents or grandparents did.
China first introduced its family planning policy in the late 1970s to rein in the surging population, which allowed most urban couples to have only one child while allowing most rural couples to have two if their firstborn was a girl. In late 2011, couples across the country were given the option of having two children if both of the parents are themselves from one-child families. Last December, the Standing Committee of the National People's Congress, China's top legislature, decided to further relax birth control measures by allowing families to have a second child so long as at least one of the parents is an only child.
According to a report on the elderly issued by the China Research Center on the Aging in February 2013, China would have more than 100 million "empty nesters"—senior citizens in a family without children living close by—by the end of last year. Traditionally in China, children live with their aging parents and take care of them. However, this support model has become unrealistic, as many young couples are both only children and don't have the time or energy to take care of four seniors. Meanwhile, not all young people can afford to provide their parents with income support due to their finances being used up buying increasingly expensive property, education for their children and the highly competitive labor market.
Recent discussions on an aging society in China focus on how to handle the various challenges it has brought upon the country.
At the same forum, Li Wei, Director of the Development Research Center of the State Council, said that it took China only 25 years to reach the same senior citizen balance that took Western countries 100 years. He added that China faces unique challenges as both an aging and a developing society.
The Third Plenary Session of the 18th Communist Party of China (CPC) Central Committee, held on November 9-12, presented China's decade-defining reform agenda, and it was decided that China would "build a fairer and more sustainable social security system." This gives people new hope to better deal with challenges brought on by an aging population.
When to retire?
Over the past three decades, China has expanded its pension system to cover almost all senior citizens. "China has established the world's
largest senior support system in a matter of years," said Yan Qingchun, a senior official with the China National Committee on Aging. Yan said that China's senior support system, consisting of pensions, old-age benefits and allowances for those with difficulty, faces the pressure of having to both achieve sustainable development and elevate the level of benefits.
On October 15-16, the Ministry of Human Resources and Social Security (MOHRSS) held a closed-door meeting for four pension insurance reform schemes produced separately by four academic institutions. Although the details of these schemes have not been disclosed, they received a lot of attention as they concern almost everyone in the country.
In August, a research team from Tsinghua University, and thus not included in the four MOHRSS-entrusted institutions, published its own reform plan for China's pension insurance system. This document attracted a lot of criticism as it suggested delaying the collection of pension for retirees and most people interpreted it as raising the age of retirement.
Under China's basic pension schemes, men retire at the age of 60 while women retire at 50 or 55, which is earlier than in many industrialized countries.
Professor Chu Fuling, with the Center for Social Security Studies of the Beijing-based Central University of Finance and Economics, said that China hasn't changed its official retirement ages since the 1970s, and over the past four decades the average life expectancy in China has increased by more than seven years. He believes with significant demographic changes, allowing some flexibility for pension collection has become inevitable.
However, many people oppose raising the compulsory retirement age. Tang Jun, a senior research fellow of social policies with the Chinese Academy of Social Sciences (CASS), warned decision-makers in one of his papers that raising retirement age would upset employees approaching the retirement age as well as young people who cannot find a job.