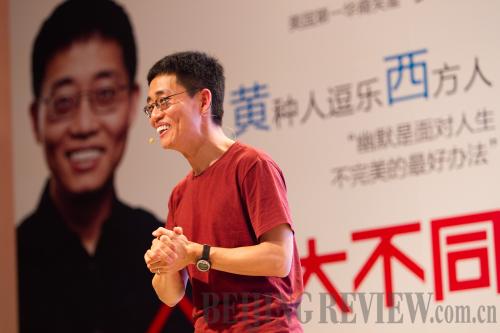 CRACKING JOKES: Joe Wong has a laugh at an event in Shanghai on November 28, 2011 (CFP)
Guo Xiaohui, a translator of American talk shows (COURTESY OF GUO XIAOHUI)

With American talk shows gaining popularity in China, Guo Xiaohui, a talk-show lover and researcher on stateside politics and culture living in Beijing, is rendering subtitles of programs such as The Daily Show and The Colbert Report into Chinese and posting China-related pieces on his Weibo and Tencent microblogs, which have 153,500 followers combined to date.

Guo became interested in American humor after reading a book called Humor Quotation 20 years ago. He said reading such books not only improved his English, but also helped him understand American culture. Later, he was exposed to American talk shows and their way of satirizing politics aroused his interest. Since last year, he has been translating subtitles of such shows, posting an episode every few days. The talk shows he focuses on are mainly based on political topics.

"It takes me more than two hours to translate a five-minute episode because as a Chinese without much knowledge of American politics, I have to Google cultural background. Otherwise, I won't be able to do a good job," Guo said.

In addition to rendering subtitles into Chinese, Guo also explains American audience reactions by including additional details on screen.

"It's a process of learning," the translator, 45, added.

American talk shows in China

Guo is not alone in introducing American talk shows to China. A netizen named Gudabaihua has been engaged in the same venture, attracting over 500,000 followers on his microblog.

However, due to cultural differences, American talk shows are obviously not as popular in China as they are back home.

"Without enough background knowledge, Chinese audiences may not find such talk shows funny at all," Guo said.

Even Chinese American comedian Joe Wong was not well received by the Chinese. Wong headlined the annual dinner hosted by Radio and Television Correspondents' Association in 2010 and is now a popular comedian in the United States. But when he performed at a theater in Beijing in 2008, much of the crowd couldn't understand his jokes.

"An American audience laughs when the comedian makes fun of himself, however, Chinese counterparts don't find it funny at all," Wong said. He recalled that his Beijing audience struggled to understand his jokes throughout the show, with serious and perplexed expressions on their faces.

At the start of one of his shows, Wong says he is Irish, which gets a laugh out of American audiences. However, Chinese netizens fail to grasp the humor.

Guo said the group of American talk-show viewers in China is still small. However, in recent years, with an increased English learning frenzy among local youth and exposure to Western culture, the number is expanding.