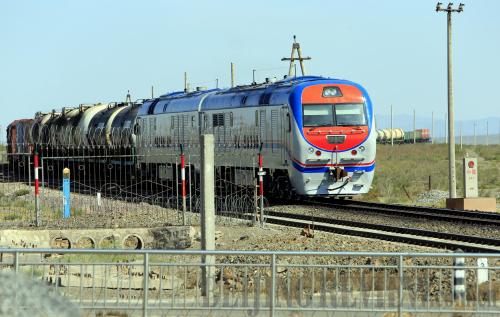 CROSS-BORDER TRANSPORTATION: An international freight train passes Alataw Pass in Xinjiang Uygur Autonomous Region (LI MINGFANG)
Though trains have replaced camels as the primary mode of transport, and oil and gas have supplanted silk as the major commodity, the Silk Road has risen once again after Chinese President Xi Jinping first put forth the strategic conception of the Silk Road Economic Belt during his visit to four Central Asian countries in September 2013. The proposed belt traverses 18 countries in the Eurasian region and has a population of about 3 billion.
To foster a community sharing common interests and imparting mutual benefits, government officials, scholars and media representatives from 23 countries came from afar to Urumqi, capital of northwest China's Xinjiang Uygur Autonomous Region, to voice their opinions at the Silk Road Economic Belt International Seminar held on June 26-27.
"Turning the concept of the Silk Road Economic Belt into reality and allowing it to yield real benefits represents an arduous task. And the efforts and wisdom of all countries will be the recipe for success," said Cai Mingzhao, Minister of the State Council Information Office at the opening ceremony.
"The Silk Road Economic Belt runs through Central Asia, South Asia and West Asia, and welds the Asia-Pacific and European economic circles. It's open to any countries and economic organizations that are willing to support it, build it and benefit from it," said Zhong Shan, Vice Minister of Commerce.
The bridgehead
Located in the center of the Eurasian continent, Xinjiang has long acted as China's window toward Central Asia and Europe. Covering a sixth of China's territory and bordering eight countries, the region is destined to play a significant role in enhancing policy communication, traffic connectivity, smooth trade flow, currency circulation and people-to-people exchanges.
"Throughout the history of the route, the focus has been on economic and trade cooperation and cultural exchanges. And such activities will be intensified in the days and years to come," Liu Huaqin, a researcher at the Chinese Academy of International Trade and Economic Cooperation, told Beijing Review.
Abundant in agricultural resources, Xinjiang is geographically, logistically, and economically well-situated to develop agricultural trade ties with countries along the belt.
"Every country in the region has its own comparative advantages and can complement each other," said Buwajian Abula, a professor from the School of Economics and Business of Xinjiang Agricultural University, citing the fact that China primarily exports labor-intensive merchandise and imports land-intensive agricultural products.
"Agricultural trade in the region concentrates on vegetables, grain, meat, milk, eggs and beverages," Buwajian added. "But the absence of integrated safety standards allows some countries to impose restrictions on imports and pursue protectionist measures. Agricultural products often rot while awaiting customs processing. Introducing standardization can push enterprises to safeguard their brand reputation overseas and reduce the incidence of food safety issues," said Buwajian.
Owing to its huge oil and gas reserves, Xinjiang has been designated as one of China's key energy bases. According to rough calculations, it accounts for 34 percent of the country's total natural gas reserves, 30 percent of petroleum, and 40 percent of coal resources.
"In the future, a focus will be placed on the construction of oil and gas pipelines linking Central Asian countries with Russia and China," said Zhang Xin, Director of the International Department of China National Petroleum Corp. (CNPC) He said that the company will start construction on the so-called "D line" on the Central Asia-China gas pipeline network with Tajikistan and strive to transport natural gas from Russia to China through the east part of the China-Russia natural gas pipeline by 2018.