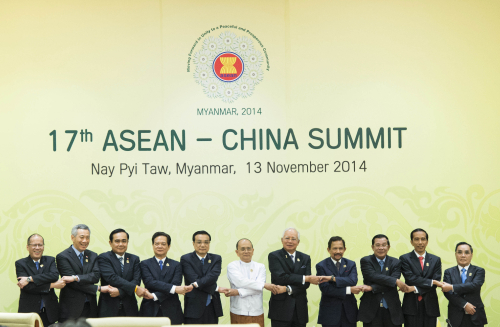 CONSENSUS: Chinese Premier Li Keqiang (fifth left) and ASEAN leaders attend the 17th ASEAN-China Summit in Nay Pyi Taw, Myanmar, on November 13 (WANG YE)
China pledged more than $20 billion in loans to support the construction of Southeast Asia's connectivity on November 13. The offer, announced by Chinese Premier Li Keqiang at the Ninth East Asia Summit in Nay Pyi Taw, capital of Myanmar, includes a preferential loan worth $10 billion for the Association of Southeast Asian Nations (ASEAN) members and a $10-billion special loan set up by the China Development Bank for regional infrastructure development.
As part of a series of East Asian leaders' meetings, this year's East Asia Summit drew leaders from 18 countries, including 10 ASEAN member states and six dialogue partners—China, Japan, South Korea, India, Australia and New Zealand—as well as the United States and Russia as newcomers.
Observers described the move as another major step by China to push forward regional economic integration so as to achieve integrated development and common prosperity. And in the meantime, it is also paving the way to advance the Golden Decade of China-ASEAN relations in the past 10 years to a Diamond Decade in the next 10 years.
"ASEAN nations include both China's continental and maritime neighbors. Helping them enhance connectivity is both favorable for meeting these countries' own needs for development and conducive to China's going-out strategy," said Wei Ling, a professor on Asian studies at Beijing-based Foreign Affairs University.
Upgrading connectivity
Since the ASEAN-China Free Trade Area (ACFTA) was established in 2010, China-ASEAN economic cooperation has never been more dynamic and fruitful. Under the bilateral free trade agreement, tariffs have been reduced to zero on 7,881 product categories, or 90 percent of imported goods. This reduction already took effect in China and the six original members of ASEAN—Brunei, Indonesia, Malaysia, the Philippines, Singapore and Thailand. The remaining four ASEAN nations—Cambodia, Laos, Myanmar and Viet Nam—will follow suit in 2015.
After years of rapid development, China has become ASEAN's largest trading partner and ASEAN, China's third largest, with bilateral trade growing by more than 20 percent annually on average and surging 37 times over the past two decades.
Observers said that like the ACFTA, connectivity between China and ASEAN as well as among ASEAN nations would become the new dynamism for promoting regional trade and investment liberalization.
Wei noted that connectivity mainly includes three aspects: first, institutional connectivity such as improved convenience in the areas of customs clearance and market regulation, supervision and standardization; second, infrastructure connectivity, which includes sufficient and smooth sea, air and land transportation links and enhanced telecommunication, electric power and Internet infrastructure; and lastly, extensive people-to-people exchanges.
Ruan Zongze, Vice President of the China Institute of International Studies (CIIS), believes connectivity between China and ASEAN nations will become a new pillar for a bilateral relationship in the future and create new growth. In an online interview posted on the Chinese Government's website, Ruan said that connectivity infrastructure projects such as bridges, roads and ports would unleash massive growth potential.
The emphasis on the construction of connectivity hearkens back to the Cebu Declaration signed at the 12th ASEAN Summit in 2007, in which ASEAN nations pledged the acceleration of the establishment of the ASEAN Community by 2015.
Li Xiangyang, Director of the Institute of Asia-Pacific Studies under the Chinese Academy of Social Sciences, said that promoting connectivity is one of the major focuses of the establishment of the ASEAN Community. He also noted that the Asian Infrastructure Investment Bank (AIIB) would provide more financial guarantees for the further improvement of ASEAN's connectivity construction.
In October, a total of 21 Asian economies inked a memorandum of understanding on the establishment of the AIIB with an expected initial subscribed capital of $50 billion. The bank, proposed by China, aims to fund infrastructure projects in less developed Asian countries.
During the Asia-Pacific Economic Leaders' Meeting in Beijing in early November, China also announced a contribution of $40 billion to set up the Silk Road Fund. In late 2013, Chinese President Xi Jinping initiated the construction of the Silk Road Economic Belt, which runs from China via Central Asia and Russia to Europe, and the 21st Century Maritime Silk Road, which runs through the Strait of Malacca to India, the Middle East and East Africa, to connect the economies therein. The Silk Road Fund will support infrastructure, resources, industrial and financial cooperation, as well as other projects, among countries along the belt and road.
Observers said that the AIIB, the Silk Road Fund, as well as additional Chinese loans, provide huge opportunities for connectivity construction and economic growth for ASEAN nations that were faced with a capital bottleneck.
"Many Southeast Asian nations have expressed demand for more infrastructure projects, but they lack sufficient funding," Ruan said. According to him, China's offer to provide financial support in connectivity construction will significantly improve the infrastructure of recipient countries, boost regional economic development and create jobs.