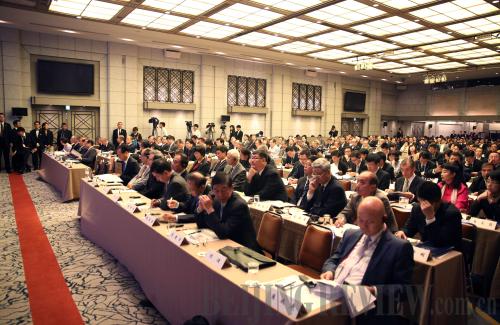 EXCHANGING IDEAS: Over 450 participants attend the 10th Beijing-Tokyo Forum in Tokyo on September 28-29 (LIU TIAN)
Over the last two years, tensions between China and Japan over historical issues and territorial disputes have brought diplomacy between the nations to a stalemate. The on-going diplomatic discord has affected cooperation in the realms of politics, the economy and tourism for the two influential East Asian neighbors.
People with insight in both China and Japan have been making efforts to promote mutual understanding and maintain the Sino-Japanese friendship. From September 28 to 29, 450 veteran officials, press leaders and prominent think tank experts from both sides gathered at the 10th Beijing-Tokyo Forum to seek a way to narrow the widening gap between the two countries.
Held in Tokyo, the two-day event carried the theme of maintaining a peaceful environment in Northeast Asia. Participants agreed that a positive momentum for mutual trust is badly needed to bridge the widening divide in China-Japan relationship.
The annual forum serves as one of the few mechanisms for dialogue between the nations since it was established by China's English language newspaper China Daily and Japan's nonprofit think tank Genron NPO in 2005.
In his speech at the forum, Chinese Ambassador to Japan Cheng Yonghua commented that in recent years, Sino-Japanese ties have been confronted with many challenges, especially over historical and territorial disagreements.
The Japanese Government's unilateral move in 2012 to "nationalize" the Diaoyu Islands, part of China's territory, triggered a heated argument between China and Japan in the international arena. After Japanese Prime Minister Shinzo Abe assumed office at the end of 2012, relations worsened further due to the Japanese Government's attempts to deny war crimes it committed during World War II.
"Mutual trust of the politics and security between our two countries has been badly damaged, which is neither good to the fundamental interests of both sides nor the regional stability in East Asia. The situation also harms the feelings of both nation's peoples and increases the concerns of international community," Cheng said.
The ever souring situation has also led to pessimism among the public in the two countries. Prior to this year's Beijing-Tokyo Forum, a joint poll conducted in China and Japan showed that 93 percent of Japanese have a negative impression of China, hitting its worst level since the survey began in 2005, while 86.8 percent Chinese view Japan unfavorably, improving only slightly from last year.
The survey found that territorial dispute is the biggest obstacle for Sino-Japanese ties. Asked why they held an unfavorable view of Japan, 64 percent Chinese respondents chose Japan's "purchase" of China's Diaoyu Islands as the main reason.
Though sentiment toward one another remains unfavorable, the public in both countries are aware of the issues. About 80 percent of Japanese and 70 percent of Chinese respondents see the current situation of worsening opinion as "undesirable and concerning" or "problematic and needing to be resolved," according to the survey co-sponsored by China Daily and the Genron NPO.
Positive indicators
Despite a lack of high-level official contacts, China and Japan are not avoiding mending their ties. In particular, there were recently calls in Japan to improve relations. This reflects that building healthy and stable Sino-Japanese relationship is in line with fundamental interests and the willing of the two peoples, Cheng said.
"Shaping a good relationship between China and Japan matters not only to the two countries but the whole world," said Yoriko Kawaguchi, former Japanese Foreign Minister and now visiting professor at the Meiji Institute for Global Affairs in Tokyo.
It is time for policy advisers to contribute wisdom and "provide inspirations for policymakers of both sides," said Yasushi Akashi, former UN Under Secretary General and now Executive Chairman of the Beijing-Tokyo Forum.
Shortly before the forum, Chinese Vice Premier Wang Yang met with a prominent trade delegation from the Japan-China Association on Economy and Trade in Beijing on September 24.
The Japan-China Association on Economy and Trade was established in 1972 when the two countries restored normal diplomatic relations. The association maintains broad contacts with Japanese enterprises and has organized a visiting delegation for Japanese business leaders to China every year since 1975. This year's delegation consisted of more than 200 Japanese business leaders.
According to Executive Director of the association Ikuta Shoichi, Wang told the delegation that he hopes to resume high-level economic dialogue between Chinese and Japanese governments as early as possible.
Ikuta said that Wang's remarks can be regarded as an encouraging signal sent by the Chinese leadership. The high-level economic dialogue between Chinese and Japanese governments has been suspended since 2010.