New initiatives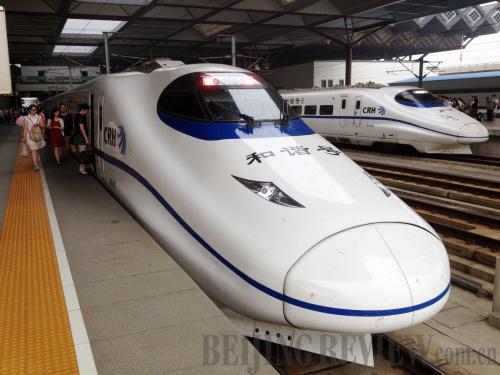 ALL ABOARD: Passengers board a high-speed train at a platform in Suzhou Railway Station on June 15 in Suzhou, east China's Jiangsu Province (CFP)
The "one road, one belt" strategy—namely the Silk Road Economic Belt and 21st Century Maritime Silk Road recently proposed by China—also creates a cooperation platform for enhancing economic ties between China and India.
In a recent interview with Indian media outlet The Hindu, Gao Zhenting, Counsellor at the Department of International Economic Affairs of the Chinese Foreign Ministry, said China and India could both benefit from the strategy and that Beijing wants India to play a key role in the initiative. "On maritime cooperation, we would like the participation of all ports along the Maritime Silk Road, with priority to be given to establishing special economic zones and industrial parks in these areas," Gao said in the interview.
In June, Chinese Ambassador to India Wei Wei proposed forging a "cross-Himalaya economic growth region" to create a seamless Asian economic community, promoting the interconnection and common prosperity of China, India and other regional countries.
India's industry circle also showed enthusiasm for strengthening economic cooperation with China. Ratan Tata, Honorary Chairman of Tata Group, said during this year's Boao Forum for Asia in April that India can establish an economic alliance with China. He added that there is a great trade potential between the two countries, and they may achieve more objectives by joining hands.
Lan believed that increasing economic cooperation could be another way to accumulate mutual trust, which does not come easy due to China-India border disputes.
Currently, the two sides are promoting their competitive industries to enter each other's markets—a process that has thus far not gone smoothly. For instance, due to so-called security concerns, India prevented some Chinese products from entering the Indian market. "Further in-depth communication is needed between the two governments at the policy level," said Lan.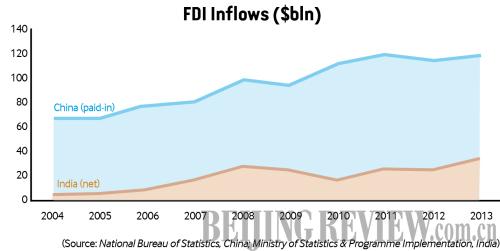 Email us at: yulintao@bjreview.com