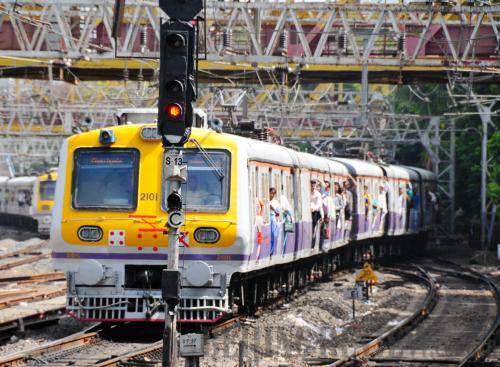 TEEMING WITH TRAVELERS: A train carrying passengers pulls into the station on June 26 in Mumbai, India (WANG PING)
India is becoming an increasingly competitive player in the race to become the world's next major manufacturer. With a population rivaling that of China and much cheaper labor, India's demographics are highly favorable—statistics show that young people under the age of 26 comprise about half of India's population of 1.2 billion.
Last month, in his speech on India's Independence Day on August 15, Indian Prime Minister Narendra Modi invited the world's business leaders to open up shop in the country. "Sell the products anywhere in the world but manufacture here...We have the power," Modi said.
The new Indian prime minister seems to be striving to turn India into the next factory of the world. Observers said it is reasonable for Modi—who values China's development experiences—to prioritize the manufacturing sector. However, if they wish to fulfill their ambition to take hold of the baton from China, India will need to seek out China's expertise and find ways to cooperate along the road to becoming a manufacturing center.
The dilemma of transition
Indian people have widely admired the success of Gujarat, known as India's Guangdong Province and the place where Modi made his name. The coastal Indian state, which accounts for about one twentieth of the country's population, produces around 16 percent of its industrial output and more than one fifth of its exports. Those who cast their ballots for Modi also have pinned big hopes on the new prime minister's ability to apply his governing experience to the whole country.
As India's advantages in the manufacturing world emerge, Indian media has begun calling for efforts to replace the ubiquitous "made-in-China" tag with "made-in-India."
Wang Haixia, a research fellow on Indian studies with China Institutes of Contemporary International Relations (CICIR), said India's race to become a manufacturing powerhouse is realistic but not without its challenges.
"Indeed, India has a large and growing working age population. But its economic growth has slowed down in recent years on top of high unemployment. At this particular moment, it is reasonable for Modi to promote the growth of manufacturing—a task that would also create more jobs," Wang said. "In addition, a strong manufacturing sector could help India to boost exports, rebalancing its trade deficit with other countries."
As a country where English is spoken widely, India was also favored by some foreign investors—especially those from the West—to have the language advantage in becoming a global center of manufacturing.
Despite the favorable conditions, observers said the investment climate in India is less positive.
"Corruption and poor administrative efficiency in India are widely known, and problems relating to land acquisition and resettlement there are always nerve-wracking," said Mei Xinyu, a senior researcher at the Chinese Academy of International Trade and Economic Cooperation, a think tank affiliated with the Ministry of Commerce.