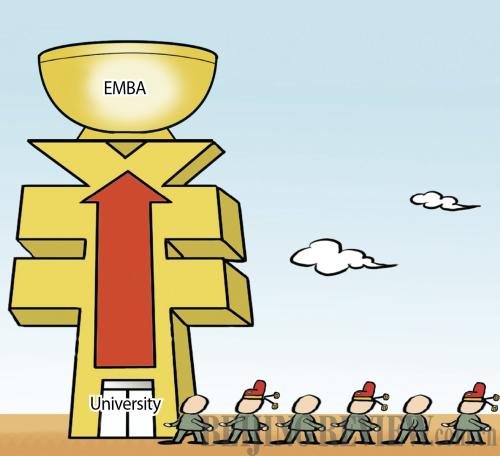 (CFP)
Once again, the deluxe Executive Master of Business Administration (EMBA) program has come under fire in China.
On July 15, China's official Xinhua News Agency published a report, revealing that many Chinese EMBA programs, though originally designed as a career boost for business elites, have seen high enrollment of government officials.
A roll obtained by Xinhua from a top Chinese business school shows there are 11 officials among the 149 students in its EMBA class, including a vice mayor.
He Jie, a political advisor in south China's Guangdong Province, proposed banning officials from attending such courses during a session of the Guangdong Provincial Committee of the Chinese People's Political Consultative Conference in January. Citing his studies on EMBA programs in China, He said that such programs have little benefit for officials' competence but serve mostly as a platform for networking.
"Some business people wish to access more resources by getting to know officials, while the latter may hope to trade their power for personal gains. EMBA programs could offer such junctions," He said.
Zhu Lijia, a professor at the Beijing-based Chinese Academy of Governance, said that by making company heads "classmates" of the officials, such EMBA programs may "facilitate the formation of corrupt groups."
Dubious goals
Unlike the Master of Business Administration (MBA), which focuses on cultivating students or middle-level business workers into business managers, the EMBA is aimed at helping senior corporate executives build the essential capabilities, networks and confidence to progress to the next step in their careers.
In 1995, China's first EMBA program was launched by the China Europe International Business School in Shanghai. In 2002, the EMBA was officially recognized by the Ministry of Education. Since then on, EMBA programs have sprouted out around the country.
However, this flourishing of new EMBA programs have also brought unexpected controversies, such as high tuition fees and a worrying number of participants from government agencies.
According to data from Tsinghua University, in its autumn EMBA course in 2013, 9 percent of the students were government officials, while 35 percent came from state-owned enterprises (SOEs).
The situation at Peking University is similar. A member of the school's recruitment department told Xinhua that Peking University's EMBA programs are popular with government officials. "We've enrolled enough students for four classes starting in September. Each class has 20 students, and half of them are officials," the anonymous contact said.
The said course has special requirements for the ranks and positions of the officials applying. "It's only open to officials above the county head level," said another recruitment staff member surnamed Yu with Peking University.
According to Yu, the program charges 668,000 yuan ($108,750) in tuition fees, not including expenses for overseas visits or domestic junkets held by local government heads.
The program lasts two years and the class meets for two to four days every two months, during which field trips will be organized both at home and abroad to broaden the students' horizons, Yu explained. She added that the school has arranged for officials from local governments to receive the students during the field trips, which is expected to facilitate networking and development of ties.
"We don't issue academic certificates, but being our student can help you expand you connections," Yu said.
An anonymous manager at a SOE who has attended three EMBA courses respectively in Tsinghua University, Peking University and Beijing Normal University, said that the main goal for EMBA students in China is to extend their networks. "Attending class with business people and government officials, you can build a large network linking both political and business circles," he said.
According to him, about one quarter of the students in the courses he attended were government officials, and the majority of remaining others were from big SOEs.
According to the Xinhua report, there are more than 100 EMBA programs in China that openly advertise themselves as having "high-ranking officials" as students to attract entrepreneurs to participate.
Such advanced management programs are generally expensive. A report by the Beijing Youth Daily revealed tuition fees for the programs range from 400,000 yuan ($65,120) to as high as 1 million yuan ($162,800) each.