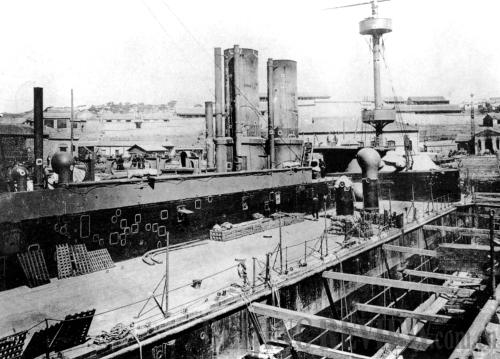 BROKEN SHIP: Zhenyuan, a ship from the Beiyang Fleet, is repaired at Lushun Port after the Chinese navy's defeat in the Battle of the Yalu River in 1894 (CFP)
The fleet also suffered from a crippling shortage of ammunition. Their supply was so low that they had been unable to carry out live-fire training and were inadequately trained and prepared for the battle. Of the munitions that they did have, some were of the wrong caliber and unusable, while others were filled with porcelain or cement instead of gunpowder. Many of those that did have gunpowder were—as Philo Mcgiffin, naval advisor to Zhenyuan, a ship in the Beiyang fleet, put it—"Thirteen years old and condemned."
"From this, we can see how doomed the Qing Dynasty was," said Xiao Yusheng, a researcher with the Academy of Military Sciences of the People's Liberation Army (PLA).
Within the Beiyang command itself, corruption and irregularities were also rampant. Li chose his subordinates according to personal loyalty and willingness to work rather than for their ability and experience.
"A navy is a modern and complicated system. It requires not only modernized ships and weapons but also modernized personnel and management systems. The Beiyang Fleet realized modernization in its weapons, which could not bring about victory at war by themselves," said Jiang Ming, historian and author of The Fleet That Flew the Dragon Flag, a book on the naval history of the late Qing Dynasty that was first published in Beijing in 2002.
In fact, there needed a thorough modernization of China as a whole. "After nearly 30 years of reform, Japan had become a modern country in which a nationalistic consciousness bonded the government and people into a unified body," said Pi Mingyong, another researcher with the Academy of Military Sciences of the PLA. "However, the Chinese general public lacked similar sentiments. In a sense, it was Li but not China that was fighting Japan."
A lack of introspection
In the two decades before the Jiawu War, Meiji reformers consistently focused on internal reforms at the expense of overseas ventures. They believed that Japan had to modernize at home before it could be adventurous abroad.
In contrast, there was no consensus in the upper echelons of the Qing government concerning an imperative to minimize conflicts abroad. Rather, its policies followed the demands of the faction of the hour. "As a result, Chinese foreign policy remained ineffectual and tragically reckless," said S. C. M. Paine, an associate professor of strategy and policy at the U.S. Naval War College in Rhode Island.
"Li did not understand the essentials of modern international politics, which weakened Chinese foreign policy," said Weng Fei, an Anhui-based scholar on late-Qing history. "He was obsessed with the antiquated tactic of pitting the 'barbarians' against one another."
Li's diplomatic efforts to seek interventions from Russia and Britain before the war were a typical example. When he finally recognized the inefficiency of his approach, much time had already been lost in making military arrangements.
"The war was a significant contest between China and Japan after a generation of modernization," said Zhang Haipeng, Director of the Association of Chinese Historians with the CASS. "The defeat broke the Qing Dynasty's Self-Strengthening Movement and was a testament to its failure."
"The limited diplomatic, military and technological modernization, without corresponding change in institutions and spirit, was incapable of revitalizing the country and transforming it into a modern state. China's loss seemed all but inevitable," Zhang added.