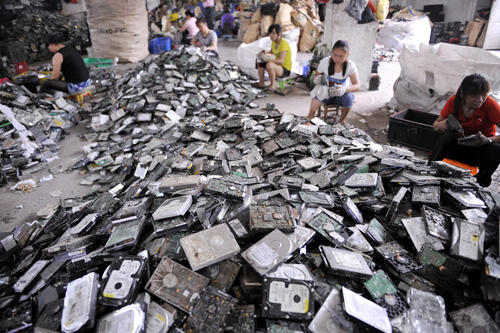 ENOUGH WASTE: Workers dismantle discarded electronic devices in a plant at Guiyu Town, south China's Guangdong Province (LIANG XU)
Riding flatbed tricycles and ramshackle minivans, Zhang Feiyu, a Beijing resident, scours the streets of the Chinese capital in search of an array of valuable metals used in electronic appliances. Zhang, 32, and his band of treasure hunters root through garbage day and night to take collections of their ultimate prize: used and dilapidated electronic products, known as e-waste.
From computers and mobile phones to television sets, refrigerators and washing machines, used electronic goods have allowed Zhang and similar back-alley entrepreneurs to tap the burgeoning, yet mostly unknown, business of e-waste disposal.
After collection, Zhang and his fellow workers dismantle the discarded electronics, dissecting circuit boards to harvest bits of gold, silver and copper.
"We can usually extract 1 gram of gold, 10 grams of silver and maybe 50 grams of copper from 10 computer circuits," said Zhang, who has been in the e-waste disposal business for the past eight years.
Privately owned workshops like Zhang's have become the main force driving China's e-waste disposal industry. Guiyu, a small town in Guangdong Province, has been dubbed the "No.1 e-waste disposal town" with more than 5,000 family-run workshops employing close to 200,000 people.
But these small disposal stations lack the oversight and safety measures of government-owned facilities. After valuable metals are extracted, the toxic by-products associated with e-waste recycling are randomly dumped, causing immense damage to the local environment.
As concerns continue to proliferate, the Central Government is attempting in to rein in and develop the e-waste recycling sector.
Government in action
By the end of 2011, China had 84 companies involved in e-waste disassembling and disposal, according to the Ministry of Environment Protection (MEP). More than half are foreign-funded or privately owned operations using advanced eco-friendly technologies.
High operating costs and an underdeveloped collection mechanism have limited these disposal plants to take collections only from recycling stations, leaving most of the household e-waste to family workshops like Zhang's.
In a bid to develop the e-waste disposal industry, the Chinese Government released a new regulation on July 1, which requires producers of TV sets, refrigerators, washing machines, air conditioners and computers to pay 7-13 yuan ($1.1-$2.04) per unit as the fund for the disposal of these electronic products.
E-waste disposal plants will receive a 35-85 yuan ($5.49-13.33) subsidy for each piece of electronic appliance processed.
The government hopes the measure will incentivize consumers to recycle outdated or damaged electronic appliances instead of sending them to traditional garbage collection facilities.
"Establishing standard e-waste disposal plants is key to China's environment protection efforts. The government will provide policy management and capital support to foster this industry," said Tang Aijun, Deputy Secretary-General of the China Resource Recycling Association.
An immense market
According to Ministry of Commerce data, by the end of last year, China had reported household ownership of 520 million TV sets, 300 million refrigerators, 320 million washing machines, 330 million air conditioners and 300 million computers. Each year, consumers throw out tens of millions of these five main categories of products, plus a huge amount of sub-category goods like cellphones, digital cameras and duplicators.
China now is the second largest e-waste producer worldwide, after the United States, generating 2.3 million tons each year.
In recent years, government policies encouraging individuals to buy new home appliances at discounts, with the aim of spurring the domestic economy in the wake of the global financial crisis, have resulted in a hefty increase in e-waste that the existing facilities find hard to handle.