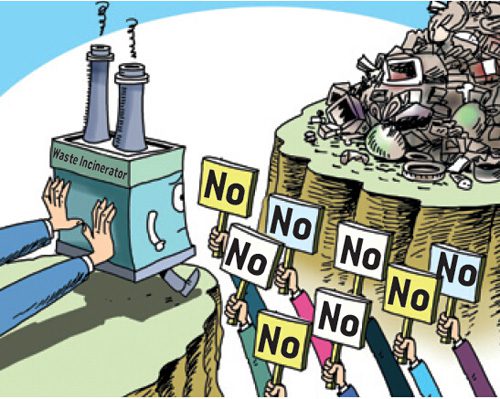 (XINHUA)
Once a week, on every Saturday since July 10, the Guangzhou No.1 Resource Thermo Power Plant in south China's Guangdong Province opens its door to visitors. While most thermal power plants in China are coal-fired, this plant burns a more unusual fuel—municipal waste.
Located in Yongxing Village, Baiyun District of Guangzhou, the plant—also known as the Likeng Waste Incinerator—is one of seven solid waste incinerators that have and will be built in the capital city of Guangdong. The first phase of the plant was put into use in January 2006 and can dispose of 1,040 tons of waste a day. The second phase, which has been in operation since June 2013, can handle 2,250 tons daily.
Through the glass windows on the fourth floor of the plant's newer facility, visitors can observe garbage being loaded into the storage tank and then fed into the furnace.
Waste dumped into the storage tank is left to sit for several days to give it time to dry out and ferment. Methane and other combustible gases generated during the process are used by the furnace as fuel, according to Bai Wen, General Manager of Guangzhou-based Grantop Group, which owns the power plant.
Bai said that because of methane, the garbage can burn without adding any agents to aid the combustion. Furthermore, due to clever engineering that creates negative pressure within the storage tank, no smells made by the fermenting garbage are able to escape.
Statistics from the plant show that incinerating waste can reduce the volume of garbage by as much as 95 percent while the plant can simultaneously generate electricity for more than 100,000 households a year.
Lu Shengliang, Vice General Manager of the Grantop Group, said that treated leachate is recycled and used to provide water for flowers and grass, and even for the carp pond at the plant, while slag is made into environment-friendly bricks and used for roads and construction.
Misleading reputation
Experts and officials participating in a forum on environmental protection in Beijing on May 17 agreed that incineration is the future of garbage disposal. The China Sciences Group and the Chinese Academy of Sciences Graduate Education Foundation hosted the forum jointly.
Statistics released at the forum show that at present, two thirds of Chinese cities are surrounded by landfills, while one quarter of these cities no longer have any space for new landfills. With China continuing to undergo urbanization, municipal garbage is projected to grow by 8-10 percent annually.
At the forum, it was revealed that 20 percent of municipal garbage in China is disposed of through incineration, whereas in developed countries, the ratio can exceed 70 percent.
The government is encouraging waste incineration. In December 2012, the State Council issued a five-year plan on the construction of municipal waste disposal facilities. According to the plan, incinerated garbage is predicted to account for 35 percent of treated municipal garbage nationwide by 2015, and in economically developed eastern regions, the percentage is expected to reach 48 percent.
China currently has 178 municipal waste incineration power plants, with a combined daily capacity of 156,000 tons, said Jiang Jiahua, a researcher with the Shanghai Academy of Environmental Sciences. Most of these plants are located in economically developed areas and large cities.
Although garbage incinerators are needed, people generally do not want them built near their homes for fear of toxic emissions. One particularly troubling byproduct of the trash burning process is dioxin, a family of toxic gases that can cause a number of ailments, including immune system deficiencies and cancer. In recent years, strong public objection has forced several planned garbage incinerators to be abandoned.