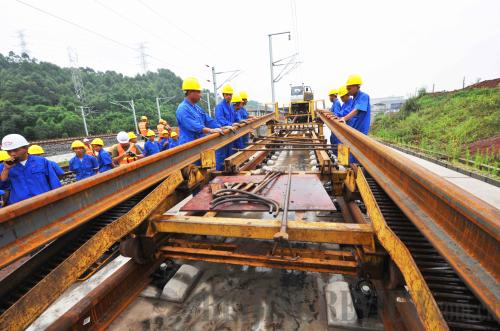 INTERCITY CONNECTION: Workers lay track for the Chengdu-Mianyang-Leshan high-speed railway in southwest China's Sichuan Province (CAO NING)
Earlier this year, in a bid to combat an economic slowdown, the Chinese Government launched several policies, such as cutting reserve requirement ratios for certain banks, increasing railway investment, reducing taxation on small and micro-businesses, and quickening renovation of shantytowns. Some in the media have begun to refer to these policies as "mini-stimulus" measures, because the government has reiterated its determination to steer away from stimulus efforts featuring massive investments.
These policies have yielded tangible results visible in some economic indicators. According to the latest figures from the National Bureau of Statistics, GDP growth accelerated to 7.5 percent in the second quarter from the 7.4 percent of the first quarter. The purchase managers' index, a gauge of manufacturing activities, reached 51 percent in June, a record high for the first half of the year. Exports increased by 7.2 percent in June, 0.2 percentage points higher than that in May, while imports reversed the declining tendency in the previous month to rise by 5.5 percent in June.
Analysts have predicted that the government will roll out more mini-stimulus measures in the second half of the year. In order to strike a balance between stabilizing economic growth and carrying forward reforms, more policies will be enacted to minimize the potential challenges the economy may be confronted with in the months to come.
Stimulus vs. reform
The mini-stimulus measures have raised concerns over whether or not they will slow the pace of China's economic reform. Are stimulus and reform incompatible like fire and water? Of course not. When Likonomics, a phrase describing Premier Li Keqiang's economic reform agenda, was first coined by Barclays Capital in June 2013, the approach was summarized as no stimulus, deleveraging and structure reform. While this concept heralds China's resolution to shake off the old pattern of economic stimulus, it has also misled people to believe that stimulus stands in direct opposition to reform.
Before the risks in shadow banking, property market and local government debts can be eliminated in the process of reform, China must ensure that the momentum of reform will not be dampened by the slowing economy. Therefore, the current mini-stimulus measures can provide a "leg up" on the initiative.
Wang Tao, chief China economist at UBS, noted that the mini-stimulus measures reflect the authorities' commitment to protecting the "lower bound" of the growth target, believed to be 7-7.5 percent for 2014 so that the target for new job creation (10 million for 2014) can be met, and other issues in the economy can be dealt with in a stable and sustainable macro environment.
Some mini-stimulus measures in themselves constitute reforms. For instance, measures to lower enterprises' financing costs can allow the capital market to play a larger role in allocating resources. Measures stabilizing foreign trade can also adjust the economic structure.
"This round of mini-stimulus policies shows that the Chinese Government has laid more emphasis on revitalizing the market by reducing governmental intervention and quickening the process of administrative approval, so as to foster more competitive growth points in the long run," said Shen Jianguang, chief economist of Mizuho Securities Asia Ltd.
A break with the past
Obviously, mini-stimulus measures have whetted local governments' desire to invest. According to rough calculations, investment projects planned by local governments have surpassed 10 trillion yuan ($1.6 trillion), triggering public doubts over the Central Government's resolution to insulate the country from economic stimulus. Will mini-stimulus turn into strong stimulus?
Xu Yili, a financial commentator from China Central Television, said in his blog that there are fundamental differences between the current investment plan and the 4-trillion-yuan ($640-billion) stimulus package undertaken in response to the 2008 global financial crisis.