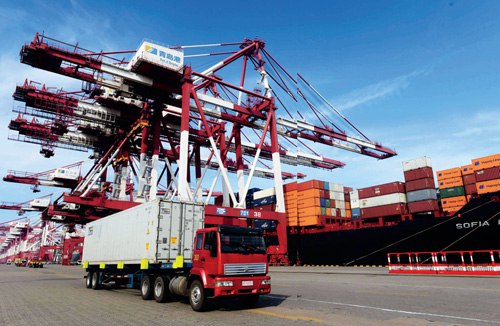 TRUCKING AHEAD: A truck delivers containers in Qingdao Port, east China's Shandong Province (YU FANGPING)
China's economic growth rebounded to 7.5 percent in the second quarter of 2014, signaling a steady recovery for the world's second largest economy. In the first six months, the Chinese economy expanded 7.4 percent.
Analysts expect GDP growth to further edge up in the second half of the year and say the whole-year growth target of 7.5 percent is still within reach. Meanwhile, they warn of some potential risks including property market correction, stubborn overcapacity and mounting local government debts.
China now has to walk a fine line between stepping up credit support for the economy, especially cash-starved smaller firms that are vital for job creation, while avoiding new local debt and property risks. In the long run, reforms are badly needed when it comes to arresting economic slowdown, they say.
"The Chinese economy showed good momentum for stable and moderate growth in the first half," said Sheng Laiyun, spokesman of the National Bureau of Statistics (NBS) at a press conference on July 16.
Sheng highlighted a pick-up in economic growth in the second quarter, encouraging job data and improvements in structural adjustment.
However, he also warned against blind optimism, citing complicated domestic and international economic conditions. "
Traditional industries are in a period of adjustment and such 'growing pains' could continue for some time, so the economy still faces some downward pressures," he said.
Part of that pressure has stemmed from the housing market adjustments, he added. Sheng said China will pursue growth momentum in reform, innovation, and the adjustment of its economic structure as well as the transformation of the nation's growth model.
A report released by Beijing-based Renmin University of China forecasted that the Chinese economy can meet its growth target of 7.5 per-cent this year, driven by mini-stimulus measures and a favorable international environment.
Xu Hongcai, a senior economist at China Center for International Economic Exchanges, said GDP growth will further pick up in the third quarter and predicted that realizing the full-year target won't be a problem.
Jia Kang, Director of the Institute for Fiscal Science Research, forecasted that China's ongoing urbanization will support the country's growth for at least two decades.
"The Chinese Government now has more tolerance for slower growth. On the premise of stable employment situations and consumer prices, the government wants to wipe out outdated capacity with the force of the market amid economic slowdown. Improvement in the quality of growth is more important than the speed," Jia said.
Improved structure
A positive change in China's industrial structure and consumption was one of the most encouraging signs in the first-half growth data.
It appears China's restructuring efforts have paid dividends. The country's industrial structure is further optimizing, as the proportion of the service sector in total GDP is continuously increasing.
In the first half of 2014, service sector output accounted for 46.6 percent of the GDP, 1.3 percentage points higher than the same period last year. The proportion is 0.6 percentage point higher than the manufacturing sector, signaling a shift toward an economy driven by the service sector.
Meanwhile, domestic demand is playing a larger role in driving growth.
In the first half of this year, consumption contributed 4 percentage points to the GDP growth, ahead of 3.6 percentage points from investment, the NBS said. This trend is in line with China's pledge to reduce dependence on investment and exports in favor of consumption. Exports, on the other hand, dragged down GDP growth by 0.2 percentage points.