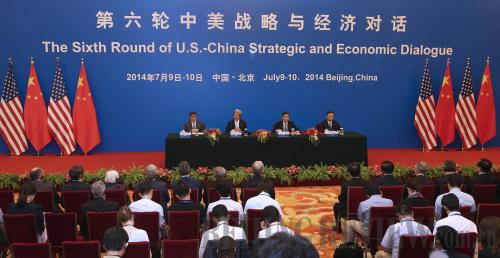 SEEKING CONSENSUS: Chinese and U.S. officials attend a joint press conference during the sixth round of the China-U.S. Strategic and Economic Dialogue in Beijing on July 10 (XINHUA)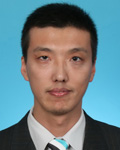 As China-U.S. affairs hit a rough patch and the world economy struggles to recover through adjustment, the sixth round of China-U.S. Strategic and Economic Dialogue (S&ED) held on July 9-10 in Beijing was intended to boost confidence in bilateral relations.
Chinese President Xi Jinping and his U.S. counterpart President Barack Obama reached a consensus of building a new type of major power relationship featuring non-conflict, non-confrontation, mutual respect and win-win cooperation in June last year. The concept of a "new type of major power relationship" was designed to foster a positive vision for Sino-U.S. relations.
However, bilateral relations subsequently worsened in the following year, leading to "strategic distrust." The Obama Administration attributed tensions between China and Japan, the Philippines and Viet Nam over maritime territorial disputes to China's display of military power, accusing the latter of attempting to change the status quo and acting aggressively. China countered these claims by saying that the tensions were caused by provocative actions taken by these countries against China. From China's point of view, the United States appeared to deviate from its neutral position and took sides with countries that confronted China, encouraging their provocative actions.
As the Ukraine situation intensifies and relations between Russia and the United States deteriorate, the Obama administration has not diverted its strategic focus from the Asia-Pacific region. Rather, it has increased its rebalance to Asia by enhancing military deployment and forming alliances in the region. President Obama said the United States will lead the world for the next 100 years and will offer protection to its allies. Beijing has interpreted this as attempts to contain China by military measures and countering the so-called Chinese Monroe Doctrine.
Adding to the poor state of affairs, the United States has persistently accused China of infringing upon its cyber security, even after revelations of the U.S. secret surveillance program showed that the U.S. has organized massive wiretapping and surveillance activities against a number of countries including China. On May 19, the United States announced an indictment against five Chinese military officers for alleged cyber theft of U.S. corporate secrets. In response, China declared that it would call off a cyber-security team formed under the framework of the China-U.S. Strategic Dialogue, which was established upon the request of the United States with the purpose of avoiding conflict and carrying out cooperation on cyber security.
In the past 40 years, in spite of frequent accusations hurled between China and the United States, they have not regarded each other as a subversive force for their respective development. Mutually beneficial cooperation, indeed, remains the norm for bilateral relations.
However, at present, suspicions and dislike between the two countries have spiked amid speculation over whether or not the United States would intervene if war broke out between China and the Philippines or Japan. As the center of global power rapidly shifts to Asia, any actions by the two countries to protect their core interests are quickly interpreted as aggression. The United States is troubled by China's maritime policy adjustment in the South and East China seas while China sees the dangerous inconsistency of the Obama administration's China policy as a major threat to its sovereignty. The two sides faced a pressing need to restart a systematic dialogue to recover confidence—and this year's S&ED was aimed at fulfilling that purpose.
At its opening ceremony, Xi said that problems in China-U.S. relations are not to be afraid of as long as both sides work to solve them. "Building a new model of major-country relationship between China and the United States is unprecedented in history. There is no ready-made experience from which to learn," he said.