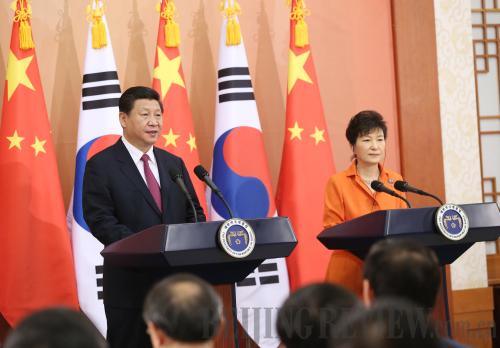 DRIVING DIPLOMACY: Visiting Chinese President Xi Jinping and President of the Republic of Korea Park Geun Hye meet the press after their talks in Seoul on July 3 (YAO DAWEI)
While China and the Republic of Korea (ROK) relations have been in a state of close economic ties, the two countries are now moving to forge stronger political ties as well—as evidenced by Chinese President Xi Jinping's Seoul tour in early July. His visit helped to map out a clearer course for the future of bilateral relations and showed China's commitment to regional stability in the Peninsula.
Deepening mutual trust
President Xi's first trip as Chinese President to the Korean Peninsula was also his first overseas trip exclusively to one country. The dedicated nature of President Xi's trip to the ROK demonstrates the high importance that China attaches to China-South Korea relations, said Gao Fei, a professor on international studies at the Beijing-based China Foreign Affairs University (CFAU). "Since diplomatic relations were established in 1992, bilateral ties have undergone positive and upward development, making big steps forward every five years or so," he said.
Gao added that Xi's Seoul tour could be seen as a reciprocation for South Korean President Park Geun Hye's state visit to China in June 2013.
Park's China trip last year put an end to Seoul's annual diplomatic routine of visiting Tokyo ahead of Beijing.
During Park's visit, the two heads of state held talks in Beijing, and pledged to boost cooperation and issued a joint statement along with an action plan to enhance their strategic partnership.
Through their latest meeting, observers said, the two presidents have ushered in a new era in bilateral relations featuring "comprehensive upgrading" and "strengthened political and economic ties." Agreements reached include deals for the launch of a renminbi clearing service in Seoul, greater political and security cooperation, and expanded people-to-people exchanges.
Xi's latest visit further enriched the two countries' strategic cooperative partnership and pointed the way to future development of bilateral ties, said Yang Xiyu, a senior researcher with the China Institute of International Studies (CIIS).
South Korean scholars shared similar views. In interviews with China's Xinhua News Agency, Kim Han Kwon, Director of the Center for China Studies at the Asian Institute for Policy Studies in South Korea, said Xi's visit has bolstered the two country's cooperation in such fields as security, economy and culture.
"It is a boost not only to the political trust between leaders of the two countries, but also to the friendship between the two peoples. It has put a new driving force behind the future development of relations between South Korea and China," added Kim.
Ha Young Ae, a professor at Kyung Hee University, said Xi's visit has won the confidence of the South Korean public in the development of ties between the two countries. Ha told Xinhua that she would encourage her students to carry forward the South Korea-China friendship and shoulder the heavy responsibility of Asia's peaceful rejuvenation.
Reinvigorating economic ties
Xi's trip has been an impetus for major progress in the China-South Korea free trade agreement (FTA) negotiations. During the visit, Xi and Park agreed to try to conclude FTA negotiations by the end of this year.
The FTA talk was launched in May 2012 with a goal of reaching a comprehensive, balanced and high-level FTA. The 12th round of talks is scheduled for later this month in South Korea.
After more than two decades of rapid development, bilateral economic and trade relations have matured and both countries are now in search of new opportunities. China is now South Korea's largest trading partner, largest market for exports, largest source of imports, and largest destination for overseas investment. South Korea, in turn, was China's third-largest trading partner and fifth-largest source of foreign investment in 2013. Statistics from China's General Administration of Customs show that China's two-way trade with South Korea totaled $274.25 billion last year, indicating an annual increase of 7 percent. The figure equates to South Korea's trade volume with the United States and Japan combined. The leaders of the two countries have also promised to raise that figure to $300 billion by 2015.