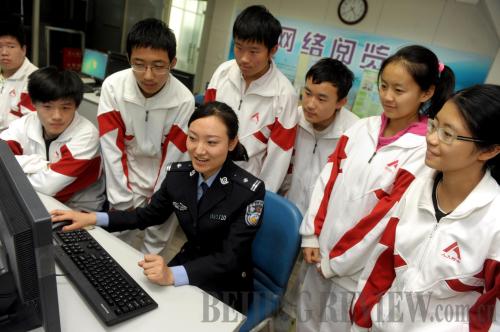 ACCESS TIPS: A police officer explains the use of control software to filter out harmful Web sites to students in a Beijing middle school on October 11, 2013 (CFP)
Despite this, the Internet is still overrun with pornographic content, said Bu Xiting, a researcher with Beijing-based Communication University of China.
The persistent existence of online pornography is partly due to the pursuit of economic interests, with the development of mobile Internet also providing more room for explicit content, according to the SIIO.
In January 2010, the Supreme People's Court and the Supreme People's Procuratorate, China's highest judicial and procuratorial bodies, jointly issued a legal interpretation, which stipulates that telecom carriers, Internet access providers, advertisers and other operators who provide conditions for the spreading of pornographic content should hold administrative and criminal liability.
"Currently, some media outlets, especially those on the Internet, provide a large amount of vulgar content. Harsh measures should be taken to put pressure on all these websites, in order to ensure the safe and healthy growth of our nation's youth," said Pi Yijun, a professor at China University of Political Science and Law in Beijing.
Young people are the most at-risk group when it comes to exposure to sexually explicit content. According to the Statistical Report on Internet Development in China, by the end of 2013, China had 618 million Internet users, 34.9 percent of whom were below 19 years of age.
Lyu Yang, a media worker in northwest China's Shaanxi Province, was shocked to see pornography in a search engine on her son's mobile phone, according to a report of Xinhua News Agency.
"My son said that his classmates visited these websites during evening classes," Lyu was quoted by Xinhua as saying.
"Many young people are addicted to pornography on the Internet and lose themselves [in it]. Some of them have even committed crimes," Pi said.
Statistics from the Ministry of Public Security show that in the past decade, nearly 80 percent of the captured juvenile criminals committed crimes after being influenced by obscene material on the Internet.
"By making all these efforts, we are striving to return a clean Internet world to the users, especially the youngsters," Vice Minister of Education Du Yubo told Xinhua.
Moms in action
Besides the government, there are many non-governmental organizations and even individuals who have joined the fight against online pornography. In January 2010, the Beijing Internet Association launched a program called Moms Jury, and publicized a notice to recruit moms as volunteers.
Yang Lu, a freelancer, is a member of the Moms Jury, and has been working for the program for more than two years.
"When I first saw the recruitment notice, I knew I must join," said Yang, who has a son who was in junior high school at the time.
Yang said that she often uses the Internet in her writing and comes across pornographic and violent articles, images and videos on many websites. She admitted that the way pornography is strategically hidden makes it difficult for parents to monitor, but easy for most tech-savvy children to find.
Moms Jury consists of members from all walks of life, and more than 70 percent of them have children in primary and secondary schools. After a short training period, these moms search for immoral content and report the sites to the authorities.
"Moms Jury has become a bridge connecting the public and websites, as well as the authorities," Yang said.
Along with other members of Moms Jury, Yang also wrote and published articles calling on children to stay away from online pornography.
"Young people form the majority of Internet users. Harmful content is dangerous to their development, as they do not have the capacity to make judgments independently," Yang said.
Email us at: yaobin@bjreview.com