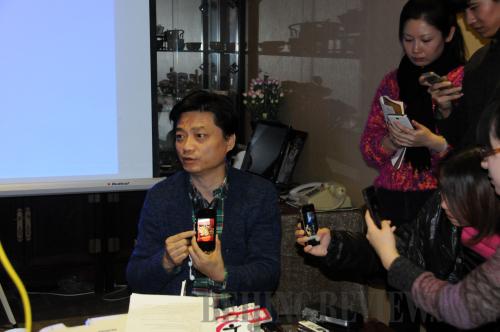 INVESTIGATOR: Cui Yongyuan, a former TV talk show host, talks in Beijing about his trip to America to research GM food on December 20, 2013 (CFP)
On March 30, the Hainan Provincial Agricultural Department released a statement on its website, saying that nine corn and cotton samples out of 107 specimens planted in the southernmost Chinese province were identified as genetically modified (GM) last December and that they had been immediately destroyed. The department also revealed that the samples came from illegal trial farms for GM crops.
In December 2013, it was reported that illegal planting of GM corn and cotton had been uncovered in Hainan, but the local authority had remained silent on the issue until it gained attention online late last month.
Many critics have asked what took the Hainan agency so long to publicize their discovery of illegal GM crops.
"It is not about a single case. It is about the transparency over GM food," said Shi Baozhong, a lawyer from east China's Anhui Province. Shi issued an open letter last September to the China Food and Drug Administration and the Ministry of Agriculture asking them to publicize information on GM food in China.
Shi said that Hainan should have released its statement on the destruction of the GM crop samples last December.
In China, the debate over the safety of GM food has been growing since the Ministry of Agriculture issued bio-safety certificates to two strains of pest-resistant GM rice and corn in 2009. The strains approved that year still require production trials, which will take three to five years, before commercial planting can begin, according to the ministry.
Opponents fear GM food could damage existing plants or create unforeseen strains when they cross pollinate with other crops and the results would be impossible to predict.
Two sides
At the end of 2013, Cui Yongyuan, a former talk show host with state broadcaster China Central Television, visited the United States and Japan to make a documentary on GM food. Cui funded the project himself and eventually released the documentary online on March 1.
The project, which cost Cui more than 1 million yuan ($161,400), was inspired by a public debate on the safety of GM food between himself and Fang Shimin, a prominent science writer and biochemist who is well known in China for his pen name Fang Zhouzi.
As a vocal supporter of GM crops, Fang posted online last September about a field trip he organized in which he and 20 volunteers gathered GM corn and conducted a taste test. "It may not have research value, but it can promote science," Fang said. "We should create an environment for all in China to have a daily diet involving GM food."
Cui, who was astonished by Fang's words, responded by saying, "You can choose to eat GM food and I can choose not to."
Fang and Cui, with more than 20 million followers altogether on their microblog accounts, thus started their spat, which was said to be one of the fiercest online fights in 2013.
Fang said that GM food had been authorized by all authoritative agencies around the world and a television personality with no scientific background has no authority to question its validity. Cui, however, insisted on his right to raise questions and decided to make a trip to the United States and Japan in search of the truth.
After visiting six areas in the United States from December 8 to 18, 2013, including Los Angeles, San Diego and Chicago, Cui filmed 40 hours of interviews to gauge the opinion of local experts and residents on GM food.
What Cui discovered during the making of his documentary could unsettle those on both sides of the argument: The United States produces an abundance of GM food, and 40 percent of its GM soybeans is for domestic consumption while 30-35 percent goes to China.
Cui also accused some people in China of lying about the fact that Americans have been consuming GM food without any safety concerns for 20 years, and said that his research found that many Americans were unaware of having eaten GM food.