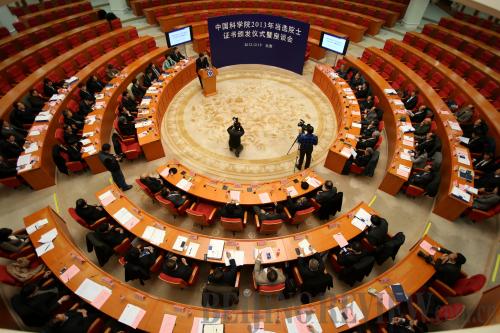 WELCOMING CEREMONY: The Chinese Academy of Sciences holds an event in Beijing on December 19, 2013, where it announced the addition of 53 new academicians, including nine foreign nationals (JIN LIWANG)
On December 19, 2013, China's two leading academic institutions, the Chinese Academy of Sciences (CAS) and the Chinese Academy of Engineering (CAE), both announced the newest full members of their institutions. The CAS added 53 new members with an average age of 54 years old, while the CAE took in 51 new members who averaged at 56.9 years old.
In China, the title of academician is bestowed on full members of the CAS and the CAE, and is the highest national honor for a scientist. The lifelong title carries a large amount of prestige.
However, in recent years this prestige, and the accompanying power it brings title holders as well as their employers, has become the focus of controversy. In particular, the biennial academician selection has received attention on account of scandals related to it.
Many academicians also hold administrative posts and are granted power to allocate academic resources and evaluate academic works. The academicians of the CAS and the CAE enjoy more rights and benefits than those stipulated under their respective charters.
Reforming the academician election and management system as well as implementing an academician retirement and exit system were included among the decisions made at the Third Plenary Session of the 18th Central Committee of the Communist Party of China (CPC) that convened in November 2013.
Controversial selection
In December 2013, Shi Yigong, the 46-year-old Dean of the Tsinghua University's School of Life Sciences, was elected a CAS academician.
Shi has been known as a vocal critic of China's academic system. In 2010, he co-authored an article in the U.S.-based academic journal Science lambasting the academic research atmosphere in China. The other author, Rao Yi, is a Peking University professor and was dean of that university's School of Life Sciences at the time of writing the article.
Shi and Rao once studied and worked in the United States. Shi, a structural biologist, received his Ph.D. from John Hopkins University. Before returning to China in 2008, he served as a professor at the Department of Molecular Biology at Princeton University.
Rao, 51, was named a research professor at Northwestern University's Feinberg School of Medicine in 2006. Before he started his teaching job at Peking University in 2007, Rao had spent 22 years studying and working as a neuroscientist in the United States.
In 2011, both Shi and Rao were recommended as candidates for full membership to the CAS, but both lost out the selection process.
Their passing over received public attention, with some questioning what the CAS' criteria for selecting academicians actually are.
Rao's name was dropped from the candidate list after the preliminary round of screening. Soon after the shortlist was released, Rao posted an announcement at his microblog, saying that he would never receive a recommendation for CAS membership again.
In a later statement, Rao said that he does not advocate abolishing the academician system because it provides a counter-balance to administrative power. He pointed out that the system helps improve the status of authoritative academic figures, so that there are at least some researchers that bureaucrats will listen to.
In 2013, the academician selection process was publicly scrutinized once more after the confession of corrupt official Zhang Shuguang. When Zhang, former deputy chief engineer of the Ministry of Railways, stood on trial over corruption charges on September 10, 2013, he testified that he took bribes because he needed 23 million yuan (about $3.8 million) to burnish his credentials and solicit votes to win himself an academician title from the CAS. Zhang was nominated as academician in 2007 and 2009, but failed to win the title both times.