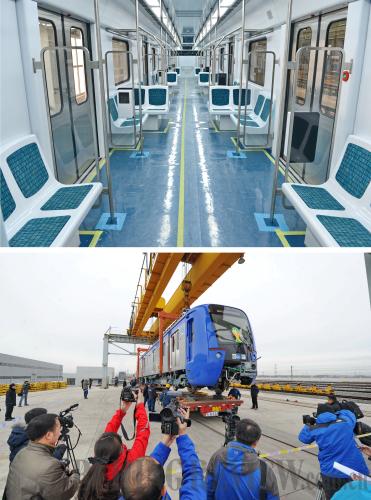 STEADY AND SPEEDY: (Top) The EMU gets loaded for shipment to Brazil on February 28. Comprised of four carriages, the EMU train capable of carrying 1,300 people can run at a maximum speed of 100 km per hour (Bottom) The inside of an electric multiple unit (EMU) made by China CNR Corp. (XINHUA)
In the first five months, Yiwu's exports to Brazil totaled $160 million, up 31.4 percent year on year. Exports of sports commodities to Brazil were $2.78 million, up 42 percent from the same period last year.
In stark contrast to low-tech commodities shipped by small manufacturers before the World Cup events, high-end products containing advanced technologies have begun to appear more and more on China's exports list.
When Brazil unveiled its plan to renovate its rail transportation network by investing $5.43 billion in 2007, China CNR Corp. Ltd. managed to pip rivals Siemens and Alstom to the post in four bids, scoring an order for 90 electric multiple units (EMUs) and 114 subway units for the construction of the required infrastructure for the 2014 World Cup.
Since some EMUs have to share routes with freight trains, carriages produced by CNR have to be strong enough to remain intact even in the case of collisions with off-track freight trains. To meet these special requirements, CNR developed new technologies to manufacture carriages with a longitudinal compression load of as high as 363 tons, 2.5 times as much as those in Europe.
"Even if the EMU collides with an 80-ton cargo train traveling at a speed of 36 km per hour, the carriages will not be distorted or broken," said Zhao Yao, EMU project manager of CNR.
"Every day during the World Cup, millions of tourists enjoy the convenience made possible by Chinese products. 'Made-in-China' products have undergone a drastic image change in the eyes of foreigners," said Zhang Tian, publicity director of CNR.
In addition to the subway, Chinese brands can be spotted both inside and outside the football stadium. Appliance maker Midea Group will be charged with keeping fans cool by providing air-conditioning equipment for nine of the 12 football fields—48 of the 64 football matches will be played in stadiums equipped with Midea's central air conditioners.
Nuctech Co. Ltd. provides nine of the 12 stadiums with security inspection equipment and services. The nine venues include Arena de Sao Paulo, scene of the opening ceremony and Maracana Stadium in Rio de Janeiro, which will host the final. About 600 advanced security inspection equipment packages from Nuctech help screeners identify hazardous materials through clear imaging.
"In the past four years, the 'made-in-China' brand has gradually shed its image of focusing more on quantity than quality. By taking advantage of the World Cup, China's manufacturing industry has begun to show its true potential," said Guo Xia, a research fellow from Peking University's China Center for Strategic Studies.
Setting goals
It seems that football fever is not confined solely to Brazil this summer. On June 5, the exciting news broke that China's biggest e-commerce company Alibaba had acquired 50 percent of Guangzhou Evergrande, China's top-notch football club, for $192 million.
Alibaba will not only invest in Guangzhou Evergrande, but also push forward the progress of China's domestic game, according to Jack Ma, Executive Chairman of Alibaba Group.
Just recently, Evergrande announced its decision to open a branch of its school in Spain with the aim of training to nurture the future stars of Chinese football.
"Taobao, Alibaba's online B2C shopping platform, sold 9.6 million cans of beer during the first day of the 2014 World Cup, while none of China's football clubs make profits from the industry," Ma said in an article, maintaining that the intervention of new forces like the Internet would mark a massive uptick in the fortunes of China's domestic football scene.
Email us at: dengyaqing@bjreview.com