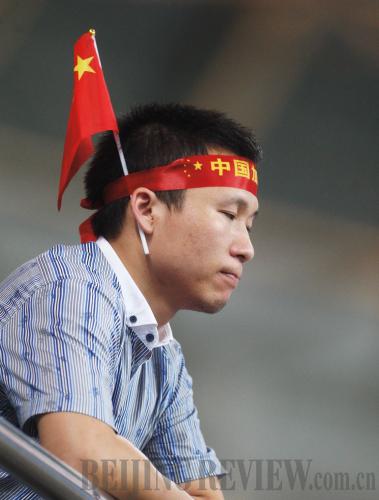 IN TOTAL DESPAIR: A Chinese fan was distraught following China's defeat to Iraq which disqualified the national team from entering the Asian Qualifiers for 2014 FIFA World Cup on October 11, 2011 (CFP)
Some sports insiders have opined that the team's players themselves should be held responsible for their poor performances. Chinese players must learn to put forward an indomitable spirit on the football field, as the game can be demanding, both physically and psychologically.
In his latest interview with Chinese media, Milutinovic said that the key to strengthening Team China is to get more people participating in the sport, better training them, and competing more often with teams from around the world.
Scandals
"Many problems within the Chinese football sphere stemmed from the Chinese Football Association (CFA), China's main governing body for football, and the Chinese Super League (CSL), its top domestic professional league," Yan Qiang, a senior commentator on Chinese football, told Southern Weekly, based in Guangzhou in south China.
This year marks the 20th anniversary of the launch of China's domestic professional league in 1994. The league failed to field a strong national team and nearly destroyed the reputation of Chinese football following a succession of scandals. Former CFA chief Xie Yalong was charged with taking over 1.36 million yuan (about $222,950) in bribes during his term in office from 2005-08. Nan Yong, Xie's successor, was also accused of bribe-taking totaling 1.19 million yuan ($195,081) by the court. Finally, Xie and Nan, two big names in Chinese football, were both sentenced to 10-and-a-half years by the court in June 2012.
A number of major figures in Chinese football, including referees, national team players, and a handful of football club managers have also been imprisoned over accusations of bribe-taking and gambling on games at the same time.
"Tackling corruption will be an enduring and lasting task for Chinese football," then-CFA chief Wei Di said in 2011, when the scandals were first exposed to the public.
Long had the CFA been criticized for its low transparency and lack of supervision. Following these scandals, the CFA has invited fans, lawyers, and journalists to monitor its games in a bid to enhance supervision of the governing association.
In addition, despite market-oriented reforms, the CSL failed to increase the competitiveness of the teams in China, said Chen Yuyu, associate professor of economics at Peking University. Chen has dedicated years to researching the Chinese football industry.
He claimed that the CFA did not create an equal-interests distribution system for the CSL; thus, clubs had to try to protect their rankings and ticket income any way they could. As a result, black market dealings before matches ran rampant in recent years.
To change the fortunes of the CSL, the CFA must carry out reforms and build a transparent and fair environment for Chinese leagues and players, said Yan, the senior sports reporter.