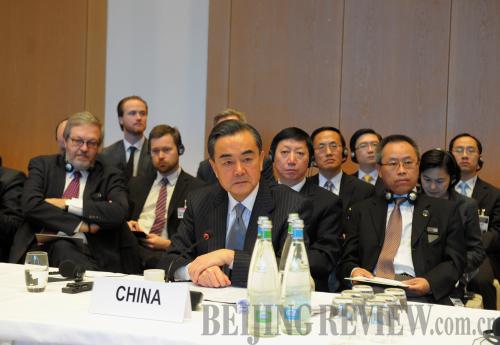 MEDIATOR FOR PEACE: Chinese Foreign Minister Wang Yi (center) attends the Geneva II Conference on Syria in Switzerland's Monteux on January 22 (QIAN YI)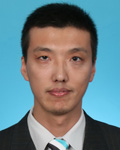 The international community once described China's Middle East diplomatic policy using phrases such as "moderation," "detachment," or "lack of imagination." But as its status as a global player grows, China is no longer merely a distant observer of events in the volatile region.
Active involvement
On January 20, Chinese Foreign Minister Wang Yi put forward a five-point proposal in Beijing on politically solving the ongoing Syrian crisis. He suggested that the opposing sides in the war-torn country should find agreements on specific arrangements and a practical timeframe for the country's political transition as soon as possible and establish a transitional governing body based on mutual consent. Wang went to Switzerland's Monteux for the Geneva II Conference on Syria the following day. Representatives from 40 countries and regions reached three points of consensus on supporting a political resolution at the conference, solidly reflecting China's proposition.
On February 6, Chinese President Xi Jinping arrived in Sochi and participated in the opening ceremony of the Winter Olympic Games at the invitation of his Russian counterpart Vladimir Putin. During his visit, Xi and Putin held a video chat with captains of Chinese and Russian naval vessels escorting the shipments of Syrian chemical weapons, encouraging crew members onboard the vessels to contribute to the international mission to safely destroy them.
China, Russia, Denmark and Norway have been jointly participating in the escort of shipping Syrian chemical weapons since the end of 2013 to implement the resolutions on destroying chemical weapons in Syria of the UN Security Council and the Organization for the Prohibition of Chemical Weapons. In addition, China has provided six shipments of humanitarian assistance to Syrian refugees in Jordan, Turkey and Lebanon.
China has few direct interests in Syria. Bilateral trade volume stands at only about $2 billion annually. Unlike in other Middle East countries, Chinese enterprises have a limited amount of investment, engineering contracts and labor cooperation in Syria. Nor has China imported crude oil from Syria.
China has acted as a diplomatic lube, entering the Iranian nuclear issue as well as being a constructive participant in the "6+1" conference, which involves the five permanent members of the UN Security Council, Germany and Iran. China was the first to suggest that the West cancel new sanctions against Iran. Moreover, they should now find a phased agreement to establish mutual trust, so as to pave the way for a complete agreement.
On November 24, 2013, relevant parties conducted active consultation based on China's proposal, and reached an initial agreement in Geneva. A month and a half later, they reached consensus on implementing the agreement, and Iran started to freeze part of its nuclear plan in exchange for relaxed sanctions from the West.
China, which has historically remained on the outskirts of the Palestine-Israel issue, has displayed interest in playing a bigger role in the region. Last May, it welcomed Palestinian National Authority President Mahmoud Abbas and Israeli Prime Minister Benjamin Netanyahu during nearly the same period of time. President Xi appealed with four suggestions when meeting with them, and stressed establishing an independent Palestinian state and realizing peaceful coexistence between the two nations. He also called on the two parties to push forward a peace process based on the principle of "land for peace," while requiring more support from the international community.
Foreign Minister Wang paid his first visit to the Middle East in December 2013 to implement Xi's proposals. Before his visit, he communicated with U.S. Secretary of State John Kerry in a call. When meeting with Abbas and Netanyahu, Wang promised that China would engage in more political functions in the region. He added that China would be willing to participate in the Middle East Quartet if China were to be invited.
The quartet formed by the United States, the UN, Russia and the European Union (EU) was founded in 2002 to coordinate conflict resolution between Israel and Palestine after the Second Intifada—a Palestinian uprising against Israeli occupation—broke out. At that time, U.S. President George W. Bush was enthusiastically pursuing unilateralism and building a "Greater Middle East."