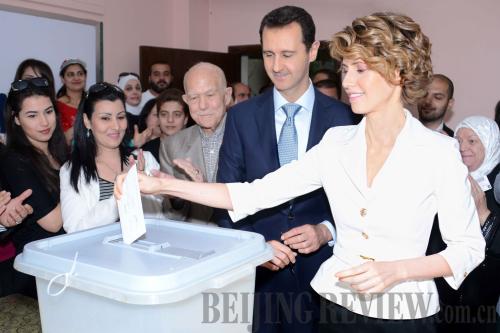 RIGHT TO VOTE: Incumbent Syrian President Bashar al-Assad (second right) and his wife (right) cast ballots in Syria's presidential election at a voting station in Damascus on June 3 (XINHUA)
Syria's presidential election featured many would-be candidates, but only one serious contender. On May 10, the Syrian Supreme Constitutional Court announced that three of the 24 presidential candidates, including incumbent President Bashar al-Assad, passed the qualification examination and became the final competitors. On June 4, Assad was declared the winner of the previous day's election with 88.7 percent of the ballots.
The election highlighted three points—Assad's absolute advantage, the opposition's automatic exclusion and the denial of the election result from the Western-backed opposition, Europe and the United States.
Systemic advantage
Assad began his third term, which will be from 2014 to 2021, in spite of objections from the United States, the EU and Saudi Arabia. The election result came as no surprise, as the electoral process was carried out within the current political system. Assad has secured the power to rule via an absolute political advantage.
The election showed that the opposition has failed to shake Assad's ruling basis after three years of bloody conflict. Assad has maintained firm support within the ruling Ba'ath Party, while being praised by all members of the People's Assembly, Syria's parliament. According to the country's election law, a qualified candidate must earn the support of at least 35 members of the assembly to become a formal candidate. The Ba'ath Party holds 161 of the 250 seats of the assembly, providing a steady backup force for Assad. Since an assembly member can give support to just one candidate, only two people besides Assad can become presidential candidates, sharing the remaining 89 assembly members' support. As such, their failure was guaranteed at the beginning of the nomination period.
Assad's two opponents were Maher Hajjar, a lawmaker of the northwestern province of Aleppo, and ex-minister Hassan al-Nouri. Both of them were little known before the election and incapable of challenging Assad in terms of campaign resources, publicity, influence or approval ratings. In fact, they essentially served as a foil to Assad's democratic election.
In addition, Assad has represented the positive energy of Syria. He and his family have opted to stay with the Syrian people and defend their country since the crisis broke out three years ago instead of fleeing like his former Tunisian counterpart Zine El Abidine Ben Ali. Thus, Assad won even higher credibility among his people. Furthermore, he controls all political, legislative, military, judicial and administrative resources of the presidential election, thus cementing his success. So far, no one has been able to challenge Assad inside Syria.
All countries have strict regulations regarding candidates' qualifications. Syria is no exception. Syria's new election, which was ratified in March, states that a presidential candidate must be over 40 years old, and must have lived in Syria for more than 10 consecutive years. The candidate shouldn't have any criminal record, or hold foreign citizenship.