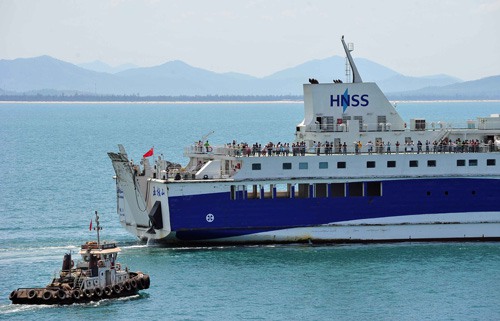 HOMEWARD BOUND: The Chinese ship Wuzhishan leaves a port in Viet Nam's Ha Tinh Province on May 19. The vessel evacuated about 1,000 Chinese nationals from Viet Nam following recent anti-Chinese violence (GUO CHENG)
The Xisha Islands in the South China Sea should not be a point of contention as Viet Nam recognized China's sovereignty over the islands in a 1958 diplomatic note to the Chinese Government. Disputes surfaced several weeks ago, however, when Vietnamese ships harassed a Chinese oil company operating in waters off Zhongjian Island, one of the Xisha Islands. Soon, anti-China demonstrations broke out in Viet Nam, escalating into violent riots against Chinese and other foreign companies, in which four Chinese citizens were killed and more than 100 others were injured.
These recent developments have led to reflections on why serious conflicts have occurred despite agreements between the two countries on settling maritime disputes peacefully, and how they should manage their relations in the future.
Causes of the conflict
The tensions came as a surprise to many scholars and observers. But they did not emerge purely by chance; instead, they resulted from the aggravation of Viet Nam's domestic problems over the years, coupled with evolving international politics.
Given the impact of the global financial crisis, Viet Nam's economy is under mounting downward pressure. High unemployment and a growing wealth divide have fueled public discontent with the government. A few people use the maritime clashes as a pretext to instigate protests in order to vent their dissatisfaction.
Also, human rights and pro-democracy groups both in and outside Viet Nam colluded to instigate anti-China riots by capitalizing on Vietnamese patriotism. Anti-China protests first broke out outside Viet Nam's borders, with some of the protesters being anti-government activists in exile. While the real target of the protests might have been the Vietnamese Government, Chinese companies and people in Viet Nam became the primary victims.
In addition, the protests showed Vietnamese people's mixed feelings toward foreign enterprises. Foreign businesses have poured into Viet Nam and thrived in the country under its reform and opening-up policy. The Vietnamese public, however, continues to hold a love-and-hate attitude toward these companies.
What complicates matters is that views on Viet Nam's relations with China vary greatly among Vietnamese leaders. While the pro-China camp underlines the importance of friendly ties, a few senior leaders represented by Prime Minister Nguyen Tan Dung cling to the realistic dogma of putting national interest above everything else—a position that appeals to nationalists and young people. Small wonder then that the prime minister made remarks and gestures that directly led to the Vietnamese Government's inefficient handling of the anti-China riots.
Externally, influence of the United States should not be underestimated. With geopolitical interests around the globe, the United States feels obliged to play a leading role on the international stage. China's rise, however, has evoked fear among many in the United States, who perceive the emerging power as a threat. In response, Washington has claimed that it is ready to address China's "provocation" with its "pivot-to-Asia" strategy. The United States has leveled criticism at China on the latter's disputes with neighboring countries in the East China Sea and the South China Sea. It has also strengthened relations with its allies and supported their claims in the disputes in an attempt to advance its own interests in the Asia-Pacific region.
Though Viet Nam is not an U.S. ally, Washington's support for Japan and the Philippines have emboldened Hanoi. In the belief that the United States will back its claims and actions, Viet Nam has resorted to brinkmanship by adopting an increasingly tough and provocative stance toward China. In its opinion, China, which is focused on realizing its goal of national renewal, will not use force against Viet Nam in the South China Sea in the next decade. Viet Nam therefore feels an urge to make the most of this period to solidify its interests in the region.
Moreover, as a U.S. ally, Japan has fanned the flames in China-Viet Nam disputes. While engaging in a fierce contest with China over the sovereignty over the Diaoyu Islands in the East China Sea, Japan has offered encouragement and assistance to incite countries embroiled in territorial disputes with China in the South China Sea to stir up new trouble.