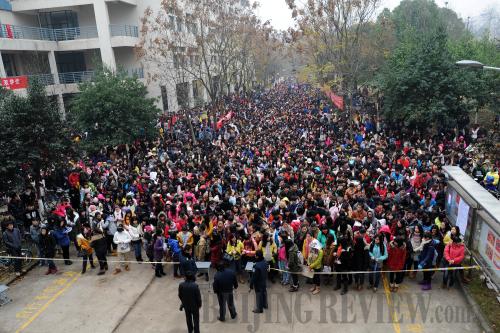 EXAMINEES: Students sitting the CET-4 (College English Test Band 4) exam get ready to enter an exam venue at Hubei University of Economics in Wuhan, Hubei Province, on December 22, 2012 (YANG HONGBIN)
Xiao Guo, a high school first-year student in Beijing, said that her motivation to study was all but gone after the city announced reforms to the college entrance exam, known as gaokao, according to a report in The Beijing News.
In light of Beijing's education reform plan, revealed on October 21, from 2016, a local student's English score in the college entrance exam will account for 100 points out of the total 750, down from 150—while Chinese will increase to 180 points from its previous 150. The remaining 20 points will go to the humanities or natural sciences, depending on a student's course of study.
English exams will be offered twice a year, and examinees can take multiple resits, with their best result going toward the final score, the document said.
In the near future, primary school students will no longer be required to study English grammar or memorize English words before the third grade, according to the Beijing Municipal Education Commission. Currently, Beijing students start to learn English as soon as they start primary school.
Xiao, who will sit the college entrance exam in 2016, has been studying English since kindergarten and has spent time in many extracurricular English training programs. She had planned to use good grades in English as a way of boosting her chances of getting into a prestigious university.
"I hate the change," Xiao said. "It's shattered my confidence in preparing for gaokao."
Popularizing reform
Beijing is not alone in reducing the importance of English. It is reported that east China's Jiangsu Province is considering reform that would exclude the English test from the local college entrance exam and replace it with a system like Beijing's. The students' English levels will be classified using letter grades, rather than percentile marks, as a reference for college admission.
A student's gaokao result is the only admission criteria adopted by almost all higher learning institutions in China. After China reintroduced the gaokao system in 1977, English was soon made one of the primary subjects, having the same status as Chinese and mathematics.
College graduates applying for postgraduate programs are also required to pass an English proficiency exam, even if it is irrelevant to their subject, such as with Chinese literature or organic chemistry.
In addition, millions of college students take the country's many standardized English tests every year, hoping to make their resumés stand out in the highly competitive job market.
Assessments of English proficiency have also become ubiquitous in many certification exams, including those for accountants, university professors and engineers.
As a result, English education and training have been given extensive attention in the country's education system. Chinese students are among the most devoted English learners among their peers in other non-English-speaking countries.
Besides spending many hours studying English in class, children from affluent families are also often sent to extracurricular English training programs by their parents. Despite the price of such programs, many parents from the rising middle class are willing to pay to prepare their children for undergraduate or postgraduate studies overseas.
This English frenzy has generated a multi-billion-dollar industry of test-prep schools and training programs.
The Beijing New Oriental School, established in 1993 to offer preparatory programs for the GRE and TOEFL tests, has grown into the New Oriental Education and Technology Group, one of China's largest education service providers. The company went public on the New York Stock Exchange in 2006 and has a current market capitalization of $4.15 billion.
Li Dazhi, a researcher with the China Association of Higher Education, told Xinhua News Agency that China began to stress English learning in the late 1970s, when the country, plagued by low domestic productivity, aspired to learn from the Western world.
"This English fervor is not bad. It illustrates the ambition and the open minds of the Chinese people and their hope to embrace the world and learn from foreign countries," Li said.
For some though, such a strong emphasis being put on a foreign language has led to complaint. Sang Jinlong, deputy head of the Beijing Academy of Educational Sciences, said that many students put much more energy, time and money into studying English than they do Chinese. According to him, some students even cut down their Chinese studies to make more time for learning English.