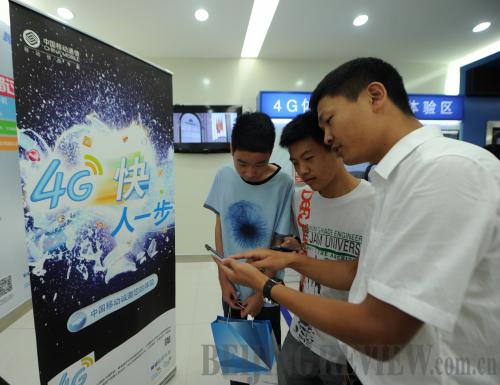 FASTER THAN EVER: A staff member from a Guiyang branch of China Mobile demonstrates the company's trial TD-LTE 4G service via a mobile phone on July 3 (TAO LIANG)
Imagine this: At a blink of an eye you can download a song. In several seconds an episode of your favorite TV show. In less than a minute a high-definition movie. No, you are not dreaming. You can do all those with a cellphone in hand, with budding ultra-fast 4G mobile Internet services throughout China.
When it comes to mobile Internet speed, there's no such thing as too fast. As subscribers continue to have high expectations for faster speeds, China's major telecom operators—China Mobile, China Unicom and China Telecom—are scrambling against time to roll out trial 4G services, as the country's telecom supervisory authority pledged to issue official 4G licenses to operators by the end of the year. Foreign and domestic telecom equipment providers and smartphone vendors are also preparing for the upcoming 4G era in a bid to grab a wider market share in the world's largest mobile market.
4G fever
4G, or the fourth generation of mobile networks, promises mobile technology for faster Internet speeds. According to a definition by the International Telecommunication Union (ITU), any wireless data network with a speed above 100 megabytes per second can be called 4G.
4G mobile network services have stirred a frenzy globally. According to the Global mobile Suppliers Association (GSA), an organization aimed at promoting mobile Internet standards, 175 commercial Long-Term Evolution (LTE) networks had been launched in 70 countries as of May 2013. LTE is the mainstream technology used for 4G mobile network services. The number of countries with commercial LTE services almost doubled from May 2012 to May 2013. The GSA also forecasts 248 commercial LTE networks in 87 countries by the end of 2013.
China's three telecom operators are all actively laying out their strategies for LTE 4G technology, as Minister of Industry and Information Technology Miao Wei said the country is expected to award 4G licenses to domestic telecom operators by the year's end. China Mobile, the world's biggest telecom operator by subscribers, has always been an aggressive promoter of Time-Division LTE (TD-LTE), a homegrown 4G technology.
China Unicom and China Telecom, the two smaller operators, have expressed their willingness to adopt Frequency-Division Duplex LTE (FDD-LTE) technology, or at least to build a converged network under both standards.
Unlike the wide-range adoption of FDD-LTE technology, the deployment of homegrown TD-LTE commercial networks is still limited.
The vast majority of network deployments use the FDD-LTE standard in an unpaired spectrum. Among the total 175 commercial LTE networks that have been launched, only 16 use TD-LTE systems, including six that have been deployed within combined TD-LTE and FDD-LTE operations, according to the GSA.
China, however, favors TD-LTE because the network's core technologies are developed by Chinese companies and sees TD-LTE as a success in technology innovation. It has pledged preferential policies for its further development. The move is understandable in a country that is focused on creating its own technology—and therefore its own independence—from social media to search engines, from space technology to grain production.