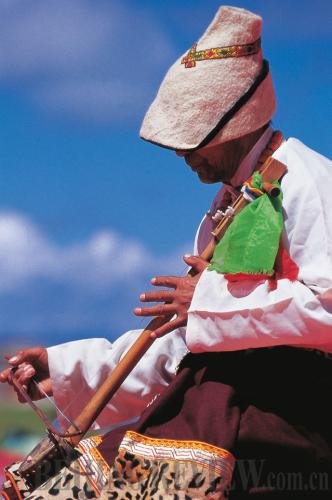 ENDANGERED FOLK MUSIC: A Tibetan musician plays a six-stringed traditional musical instrument made of cow horn in Gannan (LI XIANGDONG)
The government has engaged in projects to provide free nine-year compulsory education, where students are exempt from all tuition fees as well as given free textbooks. Rural boarders from poor families are entitled to subsidies. All rural students receiving compulsory education have also been provided with subsidized lunches. A project to make free high school education universal has started in Gannan.
Currently, the number of boarding schools providing compulsory education in Gannan has increased to 146, where 71.36 percent of the students are receiving board. The quality of education and facilities at these schools has improved.
Village clinics have been established to serve the whole population of Gannan. A total of 670 public libraries have been built in settlements for herders and 86 recreational centers have been opened in townships. The local government has also invested in safe drinking water projects that benefit an estimated 553,000 people.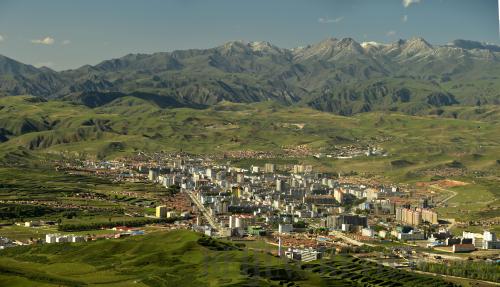 LYING IN THE VALLEY: A bird's-eye view of Hezuo City, capital of Gannan Tibetan Autonomous Prefecture, Gansu Province (HOU JUN)
Thriving economy
In 2012, Gannan's regional GDP reached 9.67 billion yuan ($1.58 billion), while fixed assets investment increased to 17.45 billion yuan ($2.85 billion) and government fiscal revenue rose to 1.18 billion yuan ($190 million). The booming private sector contributed 35 percent of the local GDP last year.
"Gannan's economic growth can be attributed to our efforts to nurture industries with competitive advantages in the region, such as hydropower, tourism, mineral mining and processing of livestock products," said Gannan's Governor Mao Shengwu. "Meanwhile, our economic structure has been improved, with the ratio of primary to secondary to tertiary industry changing from 30:22:48 to 22:24.6:53.4."
The local government formulated specific strategies to promote the development of the animal husbandry industry in order to take advantage of the benefits of both captive breeding and stocking. Now Gannan has become an important processing base for livestock raised in high altitude areas.
Over the past five years, Gannan has managed to introduce more capital, technologies and professionals from other parts of the country and abroad to boost local development. The contracts for 219 projects have been signed over the past five years, worth 13.75 billion yuan ($2.24 billion).
Recent infrastructure projects include Gannan's first civil airport, a highway linking neighboring Linxia Hui Autonomous Prefecture with Hezuo City, capital of Gannan, as well as a project to divert water from Taohe River to water-scarce Hezuo.
The power grid network in Gannan has also been upgraded to increase its reliability, and telecommunication signals coverage now spans the region.
Email us at: mali@bjreview.com