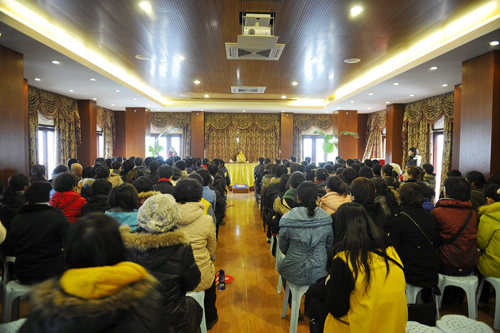 INNER PEACE: Many people visit the Longquan Monastery to listen to Master Xuecheng's lectures and pray for the better when they have troubles (SHI GANG)
Then in 2005, he became the abbot of the 1,000-year-old Longquan Monastery, located at the foot of Fenghuangling, a picturesque mountain on the outskirts of Beijing.
Xuecheng spends two hours online every day and responds to viewers' questions in diverse fields such as parenting problems, conflicts with colleagues or family members, disorientation and distress about life.
On March 20, 2012, a netizen named Aitaitong asked, "How can I dispel the resentment in my heart?" Xuecheng answered, "To put down resentment is not to forgive others, but to relieve yourself."
Another netizen asked, "I have treated my friends as brothers, but my kind behaviors turn out self-defeating. They think I have evil motives behind my behaviors." Xuecheng answered, "A clear conscience is enough to face these misunderstandings. As long as you are in good faith, do not care too much about the gains and losses. Believe in goodness. Believe in karma."
Some asked, "How can I broaden my mind?" Xuecheng replied, "When you look up to the sky, your mind will become broader. When you think about the future, your mind will become broader. When you care for all elderly as your own parents and care for all children as your own children, your mind will become broader. When you take a person's difficulties into consideration when you are in conflict with him, your mind will become broader. Make your ego smaller, and your mind will become broader."
People are becoming richer thanks to rapid economic development. Along with this trend, their demand for spiritual healing is increasing, hence Buddhism, Taoism, Islam and Christianity all embraced development, said Xuecheng.
February 29, 2012 marked the 30th anniversary of Xuecheng's monastic vows. On that day, his book titled 365 Days at Longquan Monastery was published in Chinese, English, French, German, Russian, Japanese, Korea and Spanish.
Based on the contents of his micro-blog, the book described daily monastic life in Longquan and provided Xuecheng's understanding of Buddha's teachings.
Xuecheng reaches beyond his followers, inviting scholars and the general public to the temple to learn about Chinese Buddhism and witness traditional Buddhist ceremonies. The temple also created a multimedia column on its official website. Disseminating Buddhism via the Internet and social media can extend the outreach to younger generations with minimal costs, as people from around the world can sit comfortably on their couch and read the blogs with a computer.
Realizing the language barrier prevents foreigners from knowing much about the living conditions and thoughts of Chinese monks, Xuecheng established in 2006 a translation center consisting of volunteers including college teachers, professional translators and returned overseas students, to share multi-lingual sutras with the public.
He said, "During the process of cultural exchanges, we can only achieve consensus after we settle disputes. Then we can make friends and have faith in each other."
Buddhism should exist in a way that is liked and easily accepted by the general public. The Buddhist doctrines remain unchanged over the years, but people who practice them are living in this fast-changing modern society, Xuecheng said.
In an era when the world is filled with various challenges including environmental pollution, ecological imbalance, and resource shortages, Buddhist followers in China should make efforts to heal the spiritual problems of mankind, said Xuecheng.
Email us at: tangyuankai@bjreview.com