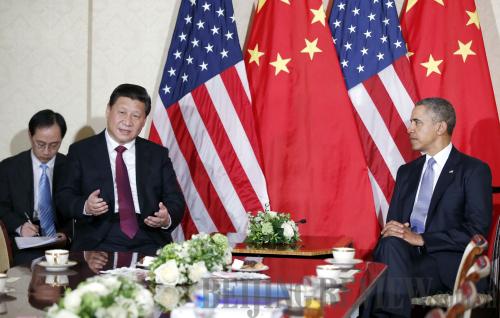 IN THE HAGUE: Chinese President Xi Jinping meets with U.S. President Barack Obama on March 24 (JU PENG)
In the modern world of international relations, state visits are no longer the sole means for heads of state to communicate and concert their stances. China and the United States have been seeking a way to build a new-type relationship since Chinese President Xi Jinping took office in 2013. Xi and U.S. President Barack Obama's meeting in The Hague showed a flexible and smart way of exchanging ideas and reaching consensus.
The two leaders met on March 24 ahead of the Third Nuclear Security Summit. This was their first meeting in 2014, and the third in the last 12 months. Last year, Xi and Obama met twice, once informally in June in California, and again more formally during the Group of 20 Summit in September in St. Petersburg, Russia.
Face to face
In the six months since the two leaders last met, a series of unexpected events have arisen in the international arena, requiring face-to-face communication, said Ruan Zongze, Vice President of the China Institute of International Studies (CIIS). He added that both sides had an urgent need to exchange views over these issues.
Guo Xiangang, a senior research fellow with the CIIS, stressed that as the first meeting between Xi and Obama this year, it was highly significant for the next phase of bilateral relations. He believes that reaching new common understandings and sharing mutual concerns over world events are important to both major powers. Moreover, Guo added, considering the occasion of the Nuclear Security Summit, promoting cooperation on nuclear nonproliferation was necessary and mutually beneficial.
Their meeting in The Hague was reported to have strengthened the connection between China and the United States, as many collective understandings were achieved. The two leaders exchanged views over issues ranging from the development of bilateral relations to current international affairs, including sensitive topics like the Ukrainian crisis and nuclear issues in Iran and the Korean Peninsula. Xi also extended special appreciation to Obama for having called to express condolences over the missing Malaysian jetliner MH370, on which 154 Chinese citizens were aboard, and for ordering relevant U.S. authorities to participate in the search and rescue operation and share information with the Chinese side.
Beijing will join Washington in handling bilateral ties based on principles such as non-confrontational actions, mutual respect, and win-win cooperation, Xi said, expecting the two nations to take more active and forceful actions to coordinate their bilateral, regional and global cooperation, and efficiently manage their differences and other sensitive matters so as to maintain the healthy and stable development of bilateral ties.
Xi stressed the two sides should respect each other's differences and stances, especially when core interests including sovereignty are concerned.
Obama promised that his country respects China's sovereignty and territorial integrity on the Taiwan and Tibet questions, and Washington "does not intend to undermine China's stability or contain it." The U.S. president stressed that his country is willing to handle its differences and frictions with China in a constructive manner, and to work with Beijing to send positive signals that the two sides are both committed to developing their relations. Obama reiterated his condemnation of the recent terrorist attack in the southwestern Chinese city of Kunming, saying that his country opposes terrorism in all forms and will strongly condemn terrorist activities wherever they take place.
Substantive interaction
World focus has recently shifted to the Ukrainian crisis, which began as an anti-government political protest, escalated with the ouster of a pro-Russia president, and ended with Crimea's declaration of independence from Ukraine and application to join Russia. The U.S.-headed West imposed a series of sanctions on Russia, while China emphasized its "just and objective attitude." Communication over the Ukrainian crisis was one of the topics between the two presidents when they met in The Hague.
Xi reiterated China's stance that "the promotion of a political solution to the crisis serves the interests of all parties," calling for promptly setting up an international coordination mechanism and urging all related parties not to take any action that might lead to a further deterioration of the situation. "China supports the constructive efforts made by the international community to ease tension, and holds an open attitude toward all plans that are helpful to promote a political solution," he said.