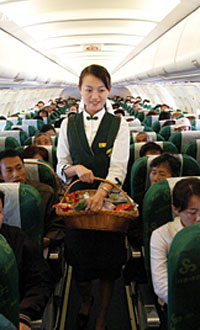 University professor Zhang Zhihua has long wanted to travel to Lijiang, a scenic spot in Yunnan Province. During this past National Day holiday on October 1-7, she realized her wish. "Taking a plane is my first choice," Zhang told Beijing Review. "It takes two days by train but only two hours by plane. I'd like to spend such short holidays in a beautiful place, not on a train."
This year's National Day holiday was a "Golden Week" in more ways than one. The General Administration of Civil Aviation of China (CAAC) released its usual "Golden Week" statistics showing that in the seven days, there were 26,459 flights carrying 3.03 million passengers. This was a growth of 6.8 percent and 17.5 percent, respectively, over the same period last year.
People having the same idea as Zhang are driving demand in the Chinese aviation market. The latest CAAC statistics showed that from January to September this year, the aviation industry generated 13.72 billion yuan ($1.85 billion) in profits. Since profits in the first half were only 4.62 billion yuan ($623.7 million), the industry gained 9.1 billion yuan ($1.22 billion) in the third quarter alone. Compared with the 5.5 billion yuan ($742.5 million) in profits in the third quarter last year, the year-on-year growth was a massive 65.5 percent.
Zhou Chi, President of Shanghai Airlines, said that rapid economic and trade growth, as well as the development of a tourism industry driven by higher consumption levels and outbound tourists following renminbi appreciation, are the three factors pushing air travel demand.
According to the latest MasterIndex of Travel released by MasterCard Worldwide, outbound tourists in the Asia-Pacific region will continue to increase in the second half of 2007. It is estimated that there will be 19 million outbound Chinese tourists, 1.86 million more than in the second half of last year.
Yuwa Hedrick-Wong, an economic advisor at MasterCard Asia/Pacific, says that although the global market is not yet stable and there are some uncertainties in economic expectations, the economic growth in the Asia-Pacific region still strongly supports tourism growth. The increase in the disposable income of Chinese citizens and low-price travel options make outbound traveling affordable to the middle-income group, not just to the rich.
Ma Xiaoli, researcher at CITIC Securities, thinks that renminbi appreciation is an important factor propelling the overall performance of the aviation industry. The renminbi exchange rate closed at $1=7.4476 yuan on November 7, breaking the point of $1=7.45 yuan, the record high after reform of the renminbi exchange rate regime. Since the reform, the renminbi has appreciated 8.9 percent, something that benefits debt-laden airlines.
According to Ma, airlines need large sums of foreign exchange to buy or rent aviation materials, purchase fuel and maintain aircraft in foreign countries. Therefore renminbi appreciation has helped save on costs.
Moreover, for airlines borrowing large amounts of U.S. dollars, renminbi appreciation also reduces their borrowing costs. A research report made by Li Shurong, researcher at Shenyin and Wanguo Securities Co. Ltd., indicates that if the renminbi appreciates 1 percent, earnings per share of Air China, Shanghai Airlines, China Southern Airlines and China Eastern Airlines will increase 0.012 yuan, 0.027 yuan, 0.056 yuan and 0.047 yuan, respectively. Air China benefits the least because its debt ratio is the lowest.
In Ma's estimation based on the latest data released by airlines, if the renminbi appreciates 1 percent, the entire civil aviation industry will gain an extra profit of 700 million yuan.
The 2008 Olympic Games in Beijing is also an important factor stimulating demand in the Chinese aviation industry. Beijing has spent $40 billion in infrastructure construction, 10 times more than what was spent at Athens.
But the Olympics is only the beginning. China is expected to see a period of rapid growth and demand in the aviation market for a long time. According to a Boeing analysis of the global civil aircraft market, between 2000 and 2006 domestic aviation transport volume in China soared 132 percent compared to 15 percent on average in the international aviation market. In the next few years, the Chinese aviation market is expected to grow at a rate higher than the world average. Cargo transport is also increasing rapidly. In the past 10 years, the average annual growth rate reached 90 percent. It is expected that in the next two decades, China's international and domestic air transport volume will grow at an annual rate of 8.9 percent and 10.9 percent, respectively.
Boeing estimates that China will become the fastest growing aviation market in the world and the largest civil aircraft market after the United States.