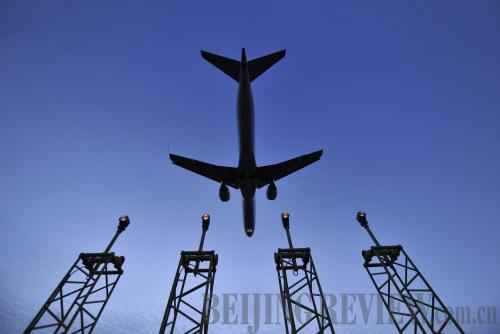 FLYING AT HIGHER COSTS: A plane lands at Brussels, Belgium. The new European regulations on carbon emissions by airlines came into force in January despite widespread opposition (WU WEI) 
The European Court of Justice dismissed a lawsuit by a group of U.S. airlines on December 21, 2011, and upheld that airlines based outside the EU must abide by EU legislation which imposes a carbon cap-and-trade scheme on international flights that take off or land at European airports. Early this year, Chinese airlines announced they will refuse to pay any charges under the scheme.
In addition to the United States and China, other nations have also raised complaints, with some critics claiming the EU is intervening in the competition between Airbus and Boeing.
The ruling was the final European-level judgment on the EU's carbon tax on airlines using European airports, which took effect from the beginning of 2012.
Although the United States has failed in its challenge to the new tax, Chinese airlines are planning to follow the United States and file a suit against the EU. The China Air Transport Association (CATA) has asked all its member airlines not to comply with the EU plan.
So far the Chinese Government has kept a cautious attitude toward the issue. Foreign Ministry spokesman Liu Weimin said China hopes the EU will act with caution and settle the issue in a positive and pragmatic way through consultation with relevant countries.
Chinese analysts say the move not only infringes on national sovereignty and violates international aviation treaties, but also is a trade barrier in the name of environmental protection, and at the cost of the interests of travelers and the international aviation industry.
Before this, 26 non-EU countries including China, the United States, Russia, India, Japan and Brazil made a joint declaration in opposition to the EU's Emissions Trading Scheme (ETS) last September and protested to the International Civil Aviation Organization.
"Except for the EU members, no countries support this [carbon emissions tax on airlines]," CATA Deputy Secretary General Chai Haibo was quoted by Financial Times as saying.