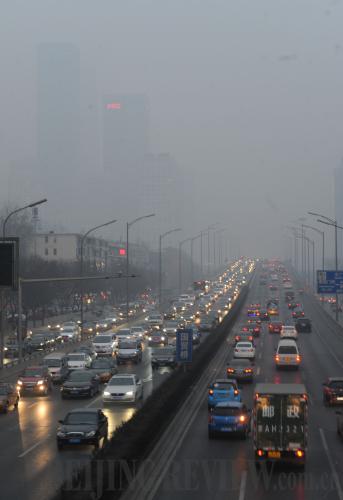 SHROUDED IN SMOG: Traffic on Beijing's East Third Ring Road on a particularly hazy day on February 22 (LUO XIAOGUANG)
Choking smog lingered, covering an area of 1.43 million square km in central and east China, an area more than twice the size of France, for a whole week starting from February 20.
Beijing and part of the neighboring Hebei Province suffered most. On February 25, readings of PM 2.5, fine particulate matter 2.5 microns or less in diameter, in different parts of Beijing exceeded 300 micrograms per cubic meter, 12 times the level deemed safe by the World Health Organization.
In the country's capital city, break time exercise for students was moved from playgrounds into classrooms, and hospitals battled a surge of patients experiencing respiratory problems, including some with emphysema and asthma.
In response, Beijing and several other severely affected cities activated their emergency anti-smog action plans, which led to the shutdown or suspension of operations by polluting enterprises, halt of construction work, and limits of the number of vehicles on the roads.
According to a study jointly conducted by the Chinese Academy of Social Sciences and the China Meteorological Administration, during the first 10 months of 2013, China as a whole experienced an average of 29.9 days of hazy weather, the longest since national meteorological records began. The report, which was issued in November 2013, also identified a considerable increase of smoggy days in eastern areas of the country, particularly the Yangtze River Delta and the Pearl River Delta.
Under these circumstances, it is no wonder that "fighting pollution" has topped the agenda in most provincial-level governments' work plans for 2014, which were adopted by local people's congresses at their annual sessions in January and early February.
Fighting the smog
Pressured by a torrent of public complaints about the health hazards brought by air pollution, many local governments have prioritized measures to reduce smog in their work reports to local people's congress sessions this year. Out of the 31 provinces, municipalities and autonomous regions on the Chinese mainland, a total of 29 mentioned curbing air population and 15 mentioned reducing hazy weather and monitoring PM2.5. In 2013, only eight provinces and municipalities mentioned hazy weather and PM2.5 in their government work reports.
Beijing has vowed to cut coal consumption by 2.6 million tons and close down 300 polluting companies throughout 2014. Shanghai proposed the setting up of a joint mechanism for fighting air pollution together with other provinces on the Yangtze River Delta. The approach of combined regional efforts against air pollution also appeared in the work reports of the provincial governments of Guangdong, Hebei, Shanxi and Sichuan.
In the monthly air-quality ranking of over 74 major cities in China compiled by the Ministry of Environmental Protection, cities from Hebei stubbornly occupied at least half of the top 10 positions for the worst air throughout 2013. Hebei produces more than a quarter of the steel made in China. In October 2013, the State Council announced that it would cut out 80 million tons of the national steel production capacity within five years so as to curb pollution, and 60 million tons are put out by Hebei.
In order to cope with air pollution, the Hebei Provincial Government has imposed a strict ban on the production of steel, concrete and glass. "An increase of even 1 ton of production capacity in these industries necessitates the immediate removal of local government and Party chiefs from their positions," reads one government work report.
Efforts by local governments to tackle smoggy weather are expected to have a positive economic effect. Sun Junwei, an HSBC macro-economic analyst based in Beijing, told Economic Information Daily that hazy weather is deeply rooted in the extensive growth mode, while cleaning up the environment equals more input in technological upgrading and new manufacturing equipment that boasts energy conservation and low emissions.
Zheng Xinli, Executive Vice Chairman of the China Center for International Economic Exchanges, believes the investment in the environmental protection industry could also create new job opportunities and become a new engine of economic growth.
Fine-tuning growth engines
As revealed by their annual development goals, of all the 31 provincial-level regions, Guangdong stands out as the only one to increase its projected GDP growth rate for 2014. The province, known as China's export-oriented manufacturing hub, bumped up its projected growth rate to 8.5 percent from its goal of 8 percent for 2013. However, the coastal province had lowered the growth forecast in its government work report for both 2012 and 2013.
Other provincial governments either favor maintaining their current rate of growth or have made projections for an economic slowdown. The most pessimistic is the province of Jilin in northeast China, whose provincial government is aiming for a GDP growth rate of 8 percent in 2014, a sharp drop compared to its12-percent goal for 2013.