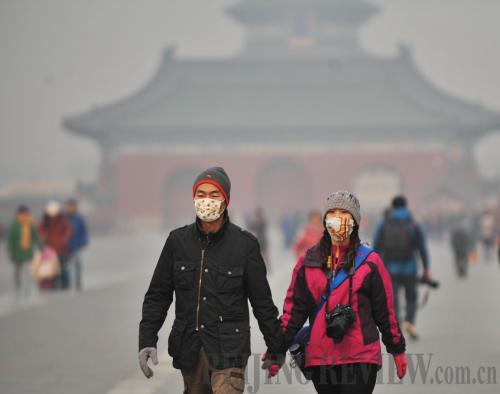 SELF-DEFENSE: Tourists wear masks to filter out the smog during a visit to Beijing's Tiantan Park on December 24, 2013, when air pollution readings were especially high (LI WEN)
2013 has passed, but memories of the smog that devoured many parts of the country are still fresh in the minds of China's citizens.
In January 2013, a thick haze shrouded many cities for more than 20 days, affecting more than 600 million people in 17 provinces, municipalities and autonomous regions.
The latest wave of heavy smog came in early December the same year, blanketing more than 100 cities in 25 provincial-level regions in and near China's two largest industrial clusters—the Beijing-Tianjin-Hebei region and the Yangtze River Delta. In some places, visibility was reduced to less than 10 meters, according to the Ministry of Environmental Protection (MEP).
In Shanghai, PM2.5 density reached a record high of 602.3 mg per cubic meter on December 6, 2013, more than eight times the national limit of 75. The World Health Organization has set the safety guideline for PM2.5 at 25 mg per cubic meter. PM2.5 consists of all airborne particles less than 2.5 microns in diameter, making them small enough to pass into the gas exchange region of the lungs.
The MEP blamed the smog in early December on the accumulation of pollutants caused by adverse weather conditions, vehicle emissions and a sharp increase in emissions from coal-burning for the heating season.
However, it has been argued that the heavy smog is simply a reflection of China's economic development, and that restructuring of its development model needs to be carried out quicker.
"Smog and haze are largely attributed to the current development model," said Xie Zhenhua, Vice Minister of the National Development and Reform Commission. He added that companies care more about output growth and that environmental protection was being ignored as a result.
Zhou Jun, an official with the Shanghai Environmental Protection Bureau, said that the way China develops should be fundamentally changed in order to reduce the number of smoggy days.
Measures taken
A paper jointly released by the Chinese Academy of Social Sciences and the China Meteorological Administration (CMA) last November warned that smoggy weather has become a lingering problem in China and the country faces a tough battle in its fight against serious air pollution.
The Annual Report on Action to Address Climate Change 2013 revealed that China has seen smog with increasing frequency and duration over the past 50 years. It noted that the number of smoggy days has increased, particularly around east China's Yangtze River Delta as well as south China's Pearl River Delta that is adjacent to Hong Kong and Macao.
The annual average number of smoggy days in regions across China reached 29.9 in 2013, the highest since 1961, according to The Economic Observer, a Beijing-based business news weekly.
In response to the deteriorating situation, the State Council, China's cabinet, issued an action plan for air pollution treatment in September last year, vowing to cut the density of inhalable particulate matter by at least 10 percent in major cities across the country by 2017.
PM 2.5, a key indicator of air pollution, should fall by about 25 percent from the levels recorded in 2012 in Beijing and the surrounding provincial areas by 2017, according to the plan.
Under the targets, the country would rein in nationwide consumption of coal to less than 4 billion tons, and electricity consumption to less than 6.15 trillion kWh by 2015.
The document stated that coal consumption will be cut and new industrial projects, such as power plants and steel mills in key cities and regions, including Beijing and the Yangtze River Delta, will be banned.
"We must face up to the realities," said Yan Naiqiang, a professor at the School of Environmental Science and Engineering of Shanghai Jiao Tong University. "Dealing with smog will be a long battle."
The State Council signed air pollution control initiatives last September with the governments of six provincial-level regions in north China, including Beijing, Tianjin, Hebei, Shanxi, Inner Mongolia and Shandong, requiring coordinated efforts to tackle their severe air pollution.
Most of China's southern provinces have also intensified anti-pollution cooperation with one another.
The Yangtze River Delta region will have a cooperative action plan on combating air pollution soon, said Zhang Quan, Director of the Shanghai Environmental Protection Bureau, on December 9, 2013.