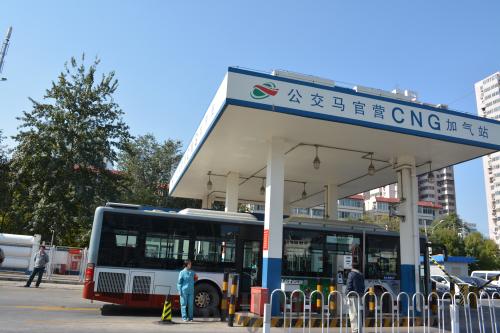 GREEN BUS RIDE: An LNG bus at Beijing's Maguanying station, waiting to be fueled (ZHOU XIAOYAN)
There was a time when Beijing was known to the world over only for its iconic landmarks like Tiananmen Square, the Forbidden City and the Great Wall. Now, the often smog-shrouded city frequently makes global headlines for its hazardous air pollution. Air quality in China's capital, derided by expats as "Greyjing" or "Beige-jing," is among the most polluted in the world.
The criticism and related health dangers have pushed the Beijing Municipal Government to adopt a hawkish stance targeted at altering the city's now infamous reputation.
In September, Beijing unveiled a five-year clean air action plan (2013-17) that promises to reduce PM 2.5 density by 25 percent or more by 2017. PM 2.5 are airborne particles measuring less than 2.5 microns in diameter which can pose health risks. The plan includes a package of measures, including reducing coal consumption, cutting vehicle emissions and curbing industrial pollution, in a bid to improve air quality.
However, experts say many obstacles stand in the way of clean air, including a shortage of natural gas supplies in China, heavily polluting trucks that traverse the city to deliver goods every night, and inconvenient charging and fueling stations for new energy vehicles. Besides, airborne contaminants can easily float to Beijing from neighboring regions.
Clean energy
The pollution in north China is partly caused by decades of reliance on coal, which is used for electricity generation and centralized heating during winter.
Centralized heating dates back to the 1950s in Beijing. It had spread across the north by the mid-1980s. At the time, the government could only afford to give its colder north centralized heating.
Beijing sees natural gas as an alternative for coal. The city has invested a total of 28.4 billion yuan ($4.66 billion) on the construction of four natural gas-fired power stations, which are scattered in the city's southeast, southwest, northeast and northwest corners. All the four gas-fired plants will be put into use before the end of 2014 to generate electricity and heat homes, replacing the four major coal-fired stations.
"Upon the completion of those four gas-fired power stations, Beijing will reduce at least 9.6 million tons of coal consumption every year," said Wang Yongliang, Vice General Manager of Beijing Energy Investment Holding, the parent company of Beijing Jingxi Gas-fired Thermal Power, one of the four gas-fired power stations under construction.
The capital city had over 5.38 million vehicles at the end of September 2013, which are considered a major contributor to Beijing's pollution—and one that keeps growing.
A report issued by a research team under the Chinese Academy of Sciences revealed that vehicle exhaust fumes are among Beijing's top sources of air pollution, contributing to 22.2 percent of PM2.5 density in the city, exceeding the figure for industry emissions.
The city has to reduce vehicle fuel consumption by promoting new-energy and small-displacement vehicles, reducing the intensity of vehicle use and more strictly implementing relevant regulations, Li Kunsheng, Director of the Vehicles Emission Management Division under the Beijing Municipal Environmental Protection Bureau, told Beijing Review.
"By 2017, the total number of vehicles in Beijing should be less than 6 million units, while the total fuel consumption should be 5 percent less than the 2012 level," said Li.