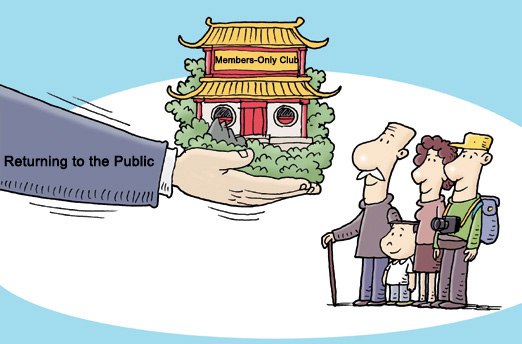 (CFP)
For years, government expenditure on vehicles, receptions and overseas trips for officials—also known as the "three public-funded consumption categories"—has been a topic of contention among the Chinese public due to the large sums of money coupled with a lack of transparency.
At a work conference of the State Council, China's cabinet, on February 11, Premier Li Keqiang reiterated the Central Government's determination to solve the problems concerning the misuse of public funds. He required governments at all levels to produce detailed accounts of their expenses and to guarantee complete transparency.
"The misuse of public funds has long been accused of being a major source of corruption and waste. If left unchecked, the government's credibility will be undermined," said Wu Zhongmin, a professor at the Party School of the Central Committee of the Communist Party of China (CPC).
Zhu Lijia, a public administration professor at the Chinese Academy of Governance, said that transparency is one of the major standards used to evaluate a government's credibility. "What matters most is that detailed accounts, listing each specific purchase or trip paid with taxpayers' money, should be delivered to the public for their supervision," he said.
Zhu also recommended that prior audits be conducted by an independent party to give more credibility to the official data released in government agencies' financial accounts.
Downward trend
Just a month after their election, the new CPC leadership launched a campaign in December 2012 to promote frugality and cut out extravagance. Against this backdrop, publicly funded expenditure by officials has attracted greater attention from both the authorities and the public.
According to statistics released by 28 provincial-level governments in their work reports to local legislatures in January, excluding Hainan, Hunan and Anhui provinces, these regions' budgets for the "three public-funded consumption categories" have been cut by 5 to 30 percent compared with that of last year.
On January 16, Li Qiang, Governor of east China's Zhejiang Province, pledged to cut local expenditure on government vehicles, receptions and officials' overseas trips by 30 percent this year, the largest among all projected reductions. The money saved will be used to build water conservation projects, improve water quality and control water pollution, Li said.
The municipalities of Beijing and Shanghai, as well as Guangdong, Hubei and Shaanxi provinces, have slashed their budgets for the three categories by more than 10 percent.
The Guangdong Provincial Government said that it planned to spend 56.41 million yuan ($9.29 million) on officials' overseas trips this year, down 25 percent from last year. Its budgets for government vehicles and receptions are expected to be reduced to 435 million yuan ($71.6 million) and 258 million yuan ($42.47 million) respectively this year, a cut from 500 million yuan ($82.3 million) and 289 million yuan ($47.57 million) in 2013.
The government of northwest China's Shaanxi Province announced a 70-million-yuan ($11.52 million) cut from the 2013 budget for the three categories, and said that all of the money saved will be used to tackle air pollution.
Some local governments have made concrete rules in order to standardize expenses on government vehicles, receptions and officials' overseas trips.
For example, the Guangzhou Municipal Government in Guangdong requires that the annual expense on each government vehicle be limited to less than 37,000 yuan ($6,090).
However, observers say that the governments' efforts to slash public expenses still fall short of public demand and they call for more details in reports on how government departments are using public funds.
In July last year, the State Council issued a circular, ordering that provincial governments make detailed spending of public funds starting from 2013, while 2015 was set as the deadline for city and county governments.
In a regulation issued on November 25 last year, the CPC Central Committee and the State Council urged government agencies to disclose information on the use of public funds, curb unnecessary expenses and practice frugality during official receptions and trips.