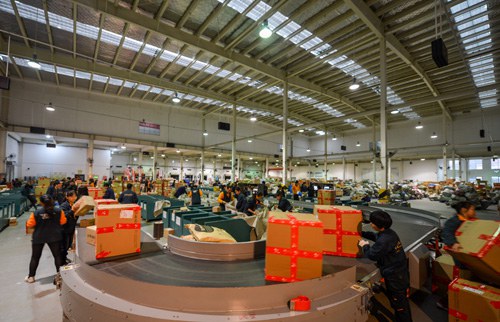 ONLINE SHOPPING SPREE: Workers process packages in a sorting center in Changsha of central China's Hunan Province on November 12, 2013. Postal EMS services have developed fairly fast in China in recent years (XINHUA)
Editor's Note: The following three stories lay out an overview of the hot issues to be addressed in the upcoming two sessions of the National People's Congress as well as the Chinese People's Political Consultative Conference in the nation's capital in March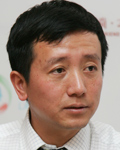 The Chinese economy has consistently delivered staggering results over the past three decades, but it is facing heavy pressure that threatens to magnify some social conflicts.
China is now experiencing painful economic restructuring. The previous growth model created some astonishing economic miracles, but domestic demand, finance and environmental pollution are increasingly restricting economic growth.
Outside China, the world economy has entered a low-growth period that may continue for 10 years or longer. The United States is tapering its quantitative easing policy, and some emerging economies, including Russia, India, Brazil, South Africa, Turkey, Indonesia and Argentina, are on the verge of, or have already fallen into, monetary and financial crisis. Economic fluctuations in several emerging economies are likely to cause social unrest, hence replaying the debt crisis that swept developing countries, the former Soviet Union and Eastern Europe in the 1980s. Emerging economies have contributed to half of China's foreign trade, therefore the crisis in these countries will affect China's capital flow and exchange rate.
With such a scenario in mind, the 2014 sessions of the National People's Congress and the Chinese People's Political Consultative Conference will be held, with economic, reform, anti-corruption and environmental protection issues major topics. In the present world of complexities, we need to take the overall situation into account in order to solve all these problems. China must ensure social stability and sustainable economic growth. To achieve this, several measures should be taken.
Firstly, an attempt should be made to reduce the impact on legitimate consumption and service sectors coming from the anticorruption campaign. The government must properly increase salaries of government employees so as to obtain more public support for the anti-corruption campaign and to establish sustainable systems for clean government.
Secondly, it is important to avoid excessively reducing investment ratio, excessively increasing consumption and excessively reducing existing production capacity and foreign trade during the process of the transformation of our economic growth model. This situation has been replicated in many developed and developing countries, and China should steer clear of making the same mistakes. For example, the issue of whether or not production capacity is excessive must be reviewed by considering the whole global market and a complete economic cycle, instead of only considering the domestic market and stagnation periods.
The readjustment of our economic growth model must be carried out with cautious and thorough consideration and the avoidance of overcorrection. The growth model of being highly dependent on domestic demand has been adopted by the United States and Europe as well as many emerging economies such as India. Over the past decade, this model has received a significant amount of acclaim, and many believe this should be the direction of China's economic restructuring.
However, we must recognize that, in an open global economic system, excessive dependence on domestic demand as well as high spending rates and low investment rates are exactly the reasons why emerging economies are not stable and sustainable. This is because the continual deficits in the trade in goods and current account inherent in the model carry with them great potential risks for economic and financial crisis, which will inevitably tamper with the stability of a country's currency. National savings and investment are always sources of sustainable economic growth.
The other two stories: