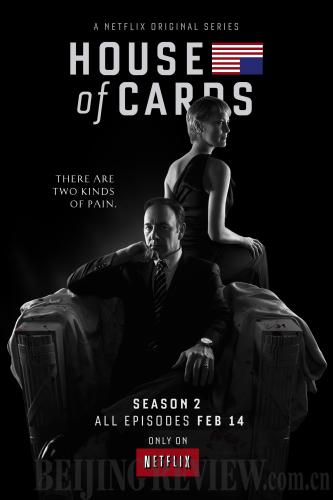 Frank Underwood is certainly having a high old time of it. Not content with climbing the power ladder in Washington, D.C., the anti-hero of House of Cards, played by Kevin Spacey, has also secured the allegiance of millions of fans across China.
Based on a 1990 BBC-produced UK drama, House of Cards premiered last year and heralded a new era of TV-series distribution. Its producer, Netflix, a subscription-based media streaming website based in the United States, turned its lack of a traditional cable channel for distribution purposes to its advantage and released all 13 episodes of its first season simultaneously for online subscribers.
Last year, Netflix made a deal with Sohu.com to grant Chinese audiences a place at the feast. Sohu.com made the decision to allow viewers to watch the show for free and make their revenue from advertising. Given the sheer size of the Chinese TV market, particularly online, this represented a smart move. Now on its second season, the show has enjoyed massive success in China and currently stands as the most-watched foreign-produced TV show in the country.
Part of the show's popularity is undeniably rooted in the younger generation's fascination regarding all things American. Now that China is vying with the United States for the top spot economically, it is only natural that the public would wish to learn more about America's history and its political culture. TV shows such as House of Cards provide a window for Chinese viewers to peer through.
The blitzkrieg pace of the storytelling is undoubtedly another draw for Chinese audiences. The plot of House of Cards unfolds at breakneck speed, its narrative a veritable rollercoaster of fresh deceptions, double-crossing and reversals of fortune, with practically every episode ending on a cliffhanger. Many viewers regard this as an antidote to domestically produced dramas, which they feel move far too slowly.
Power plays
Despite the show's popularity, however, some viewers in China have bristled at what they feel is the show's negative portrayal of their country. In the show's second season, a corrupt princeling, Xander Feng from China, was depicted making an under-the-table deal with U.S. billionaire Raymond Tusk, which allows Feng to launder his money through a casino and thereby make political contributions to influence U.S. policies.
Perhaps viewers should take the show's depiction of China, and of U.S. politics, with a grain of salt, however. Inevitably, whoever inhabits the role of antagonist will also be imbued with certain negative characteristics. While the show's observations about the cutthroat, ultra-competitive world of U.S. politics are most likely based in fact (the series showrunner Beau Willimon served on Hilary Clinton's 2000 Senate campaign staff), certain elements have been heightened or exaggerated for dramatic effect.
The show's main prerogative, therefore, is drama and not realism. Its universal themes of power plays and deception have echoed down through the ages in countless artistic works and narratives. Its story could be arguably be relocated to any time or place and still make perfect sense. Though its subject matter may be timeless, however, its narrative is tied to the present. In order for stories of this type to succeed, there needs to be a credible antagonist who exerts enough power, influence and cunning to be considered a worthy opponent.
In past decades, for instance, the antagonists of many popular U.S. films were from Russia, then considered to be America's opposite number. Looking around at the current global political landscape, that role could now only conceivably be filled by China. The makers of House of Cards have declared that they have no partisan political agenda and as one of the show's creative staff, Chinese-American playwright Kenneth Lin, explained in a recent interview with the Wall Street Journal, House of Cards is an exploration of power at the highest levels. Today, you can't tell that story without considering China.
Indeed, viewers should take heart in the fact that there is now broad recognition that, economically, culturally and politically speaking, China is now a force to be reckoned with.